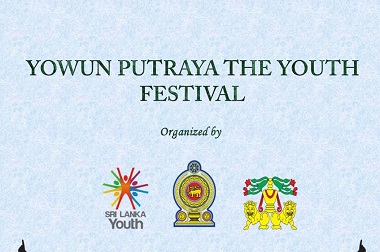 The National Youth Services Council (NYSC) of Sri Lanka, which is affiliated with the Ministry of Policy Planning and Economic Affairs in Sri Lanka organizing "YowunPuraya The Youth Festival" which to be held in Nikaweratiya, Kurunegala (North Western Province), Sri Lanka from 28th March to 1st April 2018.
The programme is aimed at developing leadership skills through a series of capacity building programme and prepare young people to become well-functioning independent citizens capable of contributing to the national development in their respective countries.
The camp will consist of many leadership activities, volunteer activities and exploration and sightseeing for all the participants. The NYSC is expects participation of sociable and enthusiastic young international delegates aged between 18-29 who are keen on camping and undertaking adventurous activities.
Expenses in relation to the international participants such as food and lodging, local transportation etc. will be provided by the National Youth Services Council (NYSC).
If you are interested to be part of the Youth Festival 2018, please contact the Embassy or Mr. Roshan Jayasooriya, Assistant Director / National Youth Services Council of Sri Lanka.
Mr. Roshan Jayasooriya
Assistant Director
International youth Relations Division
National Youth Services Council
Sri Lanka
Tel: +94112844212 | +94773784005
Email: |
Find more Information under forms/YOWUNPURAYA.pdf