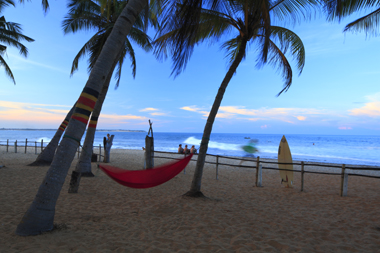 Sri Lanka's endless coastline is seamed by more than thousand kilometers of palm fringed dream beaches with glistening clear waters, inviting visitors for swimming, sunbathing and water sports all year round, seam Sri Lankas endless coastline.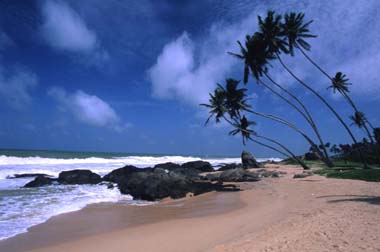 When the northeast monsoon winds blow from November to March, visitors can enjoy the sunny beaches of the west and south coast. During the southwest monsoon from April to October the dry season on the east coast guarantees relaxing beach holidays and lots of activities like scuba diving, snorkeling or surfing between Trincomalee and Arugam Bay. Hotels for all tastes and all budgets provide high quality holiday comfort at competitive prices. Families, watersport enthusiasts or honeymooners – Sri Lanka offers the perfect beach for everybody. Here are the favorites:
West Coast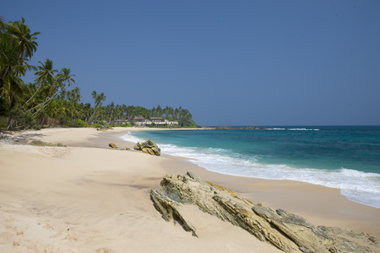 Negombo was Sri Lanka's first beach resort and is still most popular among visitors and locals because of its long and broad sandy beach. Furthermore, it is a perfect spot for those, who enjoy shopping and entertainment.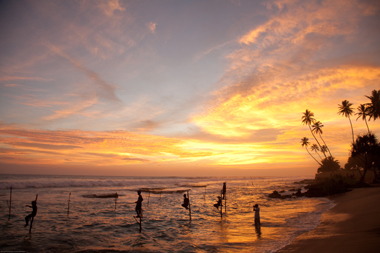 Dutch Bay/Kalpitiya The quitter north of Negombo reveals a truly stunning biodiversity and endless empty beaches, where very often the only footprints in the sand will be your own. Dutch Bay has two seasons: In winter it is a beautiful place for swimming, sunbathing and whale watching; in summer strong winds make it a favorite spot for kite-surfers.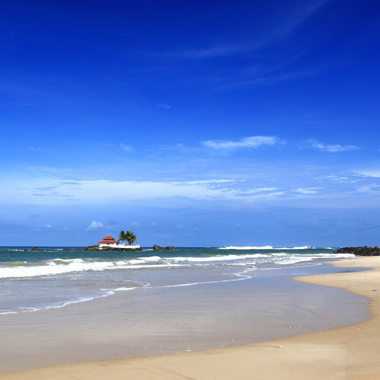 Beruwela & Bentota have been popular beach resorts for decades and offer an excellent touristic infrastructure. Between the beach and Bentota River visitors can enjoy different kinds of watersports like windsurfing and canoeing.
Hikkaduwa The former fishing village, 100 km south of Colombo, was discovered by hippies in the 1970s, who enjoyed the corals and the rolling ocean. Nowadays individual travellers and package tourists mix and enjoy sunbathing, surfing and scuba diving.
South Coast
Compared to the west coast still quiet, but with the opening of the international airport in Hambantota transport infrastructure has improved and beaches are becoming more and more popular.
Unawatuna/Welligama Travelers spotted the bay of Unawatuna, close to Galle, in the 1990s and transformed the quiet beach into a party hotspot. Unawatuna beach parties are still legendary and coral reefs offer best conditions for snorkeling and scuba diving.
Mirissa One of the top newcomers. The crescent shaped bay, fringed with coconut trees, is a real beauty. Perfect for surfing and whale-watching and a favorite among young travelers and families.
Tangalle In the far southeast numerous small quiet bays with sandy beaches line the crystal clear sea. Heavenly beautiful with its wild rocks, soft dunes and dense coconut palm forests, but because of frequent strong currents not the best place for swimming.
East coast
Since the end of the civil war 2009 many new hotels have emerged at the idyllic beaches between Trincomalee and Arugam Bay.
Nilaveli Nilaveli Beach and nearby Uppuveli Beach, close to Trincomalee, offer white sandy beaches and South Seas feeling. Since swimming in shallow waters is safe, it is a perfect place for families. The nature park of Pigeon Island, only a few minutes by boat away, offers top facilities for scuba diving.
Passekudah Bay A white powder beach and a handful of luxury resorts attract especially honeymooners and holidaymakers looking for relaxation and exclusivity.
Arugam Bay A hot spot for surfers, who meet between April and November for the dance on the waves.