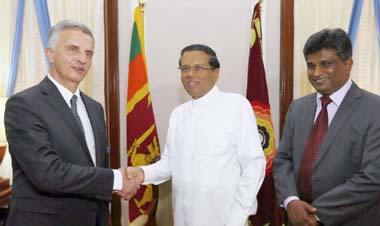 Dr. Didier Burkhalter, Minister of Foreign Affairs of Switzerland paid an official visit to Sri Lanka from 16 to 18 March 2015, accompanied by a high level delegation. This was the first official visit of a Swiss Foreign Minister to Sri Lanka.
The visiting Foreign Minister held official talks with Foreign Minister Mangala Samaraweera, during which they reviewed the existing close and cordial bilateral relations and agreed on the need to further strengthen cooperation, in particular, economic ties.
Foreign Minister Burkhalter called on President Maithripala Sirisena, Prime Minister Ranil Wickremesinghe and met with several other senior government officials. The visiting Swiss Minister also met with the business community including Swiss investors in Sri Lanka. The delegation travelled to Jaffna where the visiting Minister inaugurated a Housing Project funded by the Swiss Government and also called on the Governor and Chief Minister of the Northern Province.