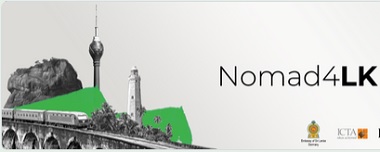 Here's your once in a lifetime opportunity to travel and work from the tropical island paradise that's Sri Lanka.
Constantly ranked by Conde Nast, Lonely Planet, and Travel+Leisure as one of the Top Travel Destinations in the World, and ranked #2 on the Top 15 Countries for Digital Nomads Index by Club Med, Sri Lanka is rich in culture, history, scenery, adventure, hope, and opportunity.
The winner of the Nomad4LK competition will get a sponsored visa, air travel, accommodation, access to co-working spaces in major city hubs around the island, and access to the thriving Sri Lankan startup ecosystem to see your venture grow from the Gateway to South Asia.
We can't wait to see you soon! Apply today at https://bit.ly/3BCocyu
Applications close on 11:59 PM Friday, 24 September 2021 CET