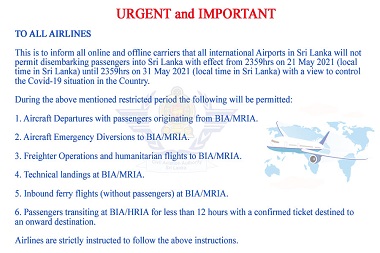 International Airports in Sri Lanka will be closed for all the incoming passengers with effect from 11.59 pm on 21 May 2021 to 11.59 pm on 31 May 2021 with a view to control the spread of Covid-19 in Sri Lanka with following exceptions:
1. Seafarers are authorized to land at Mattala Airport (Adhering to strict health guidelines, will not blend with the community)
2. All emergency landings
3. Air cargo
4. Transit passengers at BIA with less than 12 hr layover.
5. No restriction on outbound passengers from Sri Lanka
6. Aircraft emergency Divisions to BIA/Mattala Airport
7. Technical landing at BIA/Mattala Airport
8. Inbound ferry flights (without passengers) at BIA /Mattala Airport