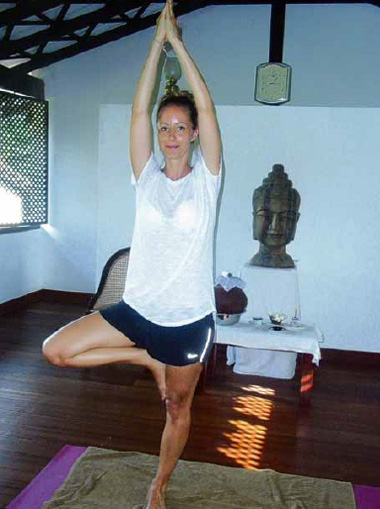 Ayurveda A growing number of young people are travelling to distant lands to recharge their empty batteries. Like Helen H., who went to Sri Lanka. By Freddy Schissler, Augsburger Allgemeine Zeitung, 11.09.2012
The oil on Helen H.'s forehead runs down in slow motion from left to right and then again the other way around. It comes from a golden bowl that a therapist very carefully tips forward. This is a precision job because the oil may not flow into H.'s eyes or ears. This kind of Ayurvedic treatment is called Shirodara—it's aim is to bring the guest in a particularly contemplative state. Helen H. enjoys this moment of rest 8000 km far away from home.
The 31-year-old woman from Munich can look back to a gruelling time, which nearly robbed all her forces. She was burned out, lacking in motivation and spiritless. Those who expect to find mostly people over 50 undergoing Ayurvedic treatment in the country where this medicine has its roots are in for a surprise. Increasingly more young women suffer from lack of energy and place their hopes on Ayurvedic help.
Welcome to paradise in Sri Lanka? No, the island is not a paradise. Too much happened: first, terror and deaths during the armed conflict between insurgent Tamils and government forces. Then in 2004, the tsunami with its disastrous consequences: 38,000 dead and countless homeless. The traces of the devastation are still visible today. Like memorials, the ruined houses and crooked palm trees stand on the landscape. Yet, Sri Lanka attracts especially German tourists who are at the end of their strength and want to treat their mind and body to a relaxing break. Ayurveda is the magic word, especially for women. And the average age of guests decreases more and more. Thirty-year-old women who feel burned out are not uncommon.
"In Germany the pace is high," says Janaka Buddhakorala, the manager of Ayurveda Hotels Maha Gedara in Beruwala," a tribute that some must pay early." Helen H., aged 31, has booked a three-week break in Maha Gedara. She needs these weeks dearly for her internal battery has been nearly empty for almost one year. She gets up in the morning at seven o' clock without setting an alarm. The morning yoga starts at seven. The woman from Munich is actually not really an early riser—at least not at home. In Sri Lanka, however, she has discovered the pleasure of the morning exercises. "I feel how my body becomes increasingly more awake and more flexible," she says. This was the case, for instance, when she was doing the sun salutation and putting the legs behind her head after the shoulder stand.
The therapists wait for Helen H. after breakfast. She receives head, face, hands and foot massages; two therapists treat her tight body mussels with synchronised massages at the same time. The principle applies: women treat women and men massage men. The body is to be detoxified and purified with plant drugs, with nose and frontal sinus treatments, herbal steam baths and inhalation and with a colon cleansing, which strongly affected the 31-year-old. She is during one day a bit rattled; the stomach rebels and her knees are shaking. Thereafter, however, she recovers. She feels fitter than before. Why is the only 31-year-old here? "My energy has increasingly been disappearing since about one year. I just lost interest in everything," Helen H. admits. Going to the cinema? Visiting a beer garden on the weekend? Go hiking with friends? No chance. Helen H. withdrew more and more. For her only work and study existed. Her day would have had to have more than 24 hours. She was unable to say no to any challenge.
Everything is tailored to the needs and the body of the guest
Helen H. has earned a master's degree. However, the price she had to pay for it was high: burned out at just over thirty. In Sri Lanka, she wants to get back on track. The therapists help her physically. Matched to the needs of the guest, the cooks offer several rice dishes, steamed vegetables, curries and fresh fruit every day. The doctor determines during the first visit after the arrival of the guests the body type, which will determine the menu of the guest during the whole stay. In addition, the head doctor gives Helen also advice for her future life. Of course, he advises her to slow down her pace. He also explains to her the importance of nutrition and sleep and an intact social network.
"Our guests are to treat their body and mind with greater care after their stay," says Janaka Buddhakorala. The environment and the atmosphere of the resort are important for recreation, the hotel manager believes. In the Maha Gedara there is a biotope in centre of the area, palms, shrubs, a tropical garden, benches for relaxation and water systems—and of course the sea. The days in Sri Lanka's Ayurveda resorts are marked by calmness and self-contemplation; yoga or meditation in the evenings round it off. The clocks in an Ayurvedic resort move slower. In addition, herbal medicines are given after breakfast and dinner. Energisers are among them and sedatives for the psyche.
Helen H. has regained a lot of power during the three weeks. Certainly, her battery was not completely charged, she says. However, I am functioning again: "I'm flying back home with a good feeling." Also because she is firmly determined to say no sometimes at work.