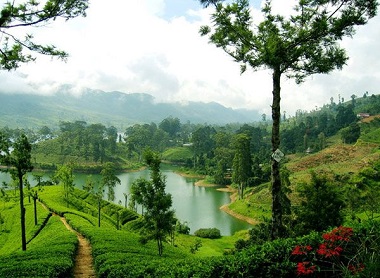 Pearl of the Indian Ocean

Honored by Lonely Planet as the number one travel destination for 2019, Sri Lanka offers a multitude of sights, from pristine sandy beaches to impressive green mountains, and is known as the pearl of the Indian Ocean that enables "unmissable experiences". While the whole world is slowly recovering from the global COVID-19 pandemic, Sri Lanka has made intensive and extremely successful efforts to keep the spread of the virus under control, and has also proven that Sri Lanka is not just the number one travel destination in the world, but also has an excellent health system. Sri Lanka Tourism enables international guests to enjoy the highest safety standards by inviting tourists from all over the world to experience our lovely paradise island.
Read more on https://www.srilanka.travel

COVID-19 Current Situation in Sri Lanka

Sri Lanka's efforts to contain the Covid 19 virus have been very successful, and on May 20, 2020, the Sri Lankan Ministry of Health declared the transmission of the virus zero for over three weeks. There are still extensive guidelines for public life, including hand hygiene and distance rules. Following an expiring approach, the nationwide ban was lifted on June 28, 2020. In order to ensure a safe travel experience, extensive health and safety guidelines and health protocols were introduced upon intensive consultation. From May, the interior of the country was reopened for tourism under strict guidelines for festivities, hotels and restaurants. This followed the reopening of national parks and a variety of other attractions.
The air and sea borders remain restricted due to the pandemic, and thus also international passenger flights. All international airports in Sri Lanka should reopen from August 2020. Given that a significant number of Sri Lankan compatriots have still requested repatriation to Sri Lanka, the authorities will give priority to them before the arrival of international guests. This is an evolving process that Sri Lanka Tourism is closely monitoring with the government and the COVID-19 Task Force.
With the gradual reopening of schools, cinemas and religious places of worship and the restart of examinations at the state level, Sri Lanka will hold the intended parliamentary elections in early August 2020. In collaboration with everyone involved, the Sri Lankan government and Sri Lanka Tourism have ensured that all travelers can be assured of the highest level of security and a safe experience for everyone.
Current situation regarding COVID-19

Official LIVE updates and the latest news from the Sri Lankan government on the outbreak of the Corona Virus and necessary protective measures to combat the new virus can be found at https://hpb.health.gov.lk/covid19-dashboard/