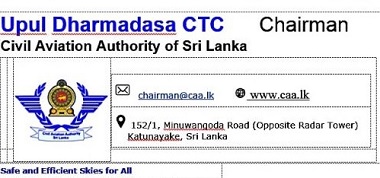 This is to inform all online and offline carriers that according to instructions received from Sri Lanka Health Authorities, all international airports in Sri Lanka will be closed for operation of inward international commercial passenger flights (i.e. arrivals) with effect from 0400 hrs. on 19th March 2020 (local time in Sri Lanka) until 2359 hrs. on 25th March 2020 (local time in Sri Lanka). The closure will be reviewed by the Sri Lankan authorities.
During the above mentioned restricted period, the following will be permitted:
Aircraft departures with passengers originating from Colombo, stopovers, transit passengers or visiting tourists
Emergency diversions to BIA
Freighter operations and humanitarian flights to BIA
Technical landings to BIA
Inbounding ferry flights (without passengers) at BIA
The Airport Arrival Terminal continues to be closed for passengers
Flights with Passengers may leave Sri Lanka
Ports Operation will run uninterrupted
To prevent new imported cases of the coronavirus in the country, the Sri Lankan Government has on 22nd March 2020 decided to indefinitely extend the closure of the arrival terminal at the airport.
The departure terminal will continue to be operational. All flights are allowed into the country to take the departing passengers. All passenger transit operations have been stopped at the moment.
All import and export operations are to continue without interruptions.
The Government has to decided to continue with these restrictions, until the country returns to normalcy.