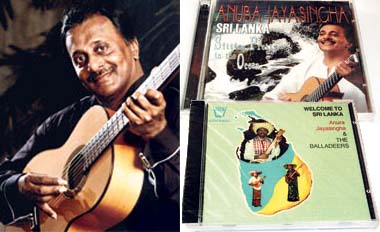 Music fans will remember him as part of the La Ceylonians singing those lilting calypso tunes with his trademark straw hat and guitar. Many years have passed since those memorable tunes and times but Anura Pathmasiri Jayasingha's musical journey continued, taking him across the world carrying his brand of music to people.
He has met world renowned singers of the calibre of Harry Belafonte and Lionel Ritchie and his Sinhala songs done with his own group The Balladeers were aired on French radio and television in 1990.
He is philosophical as he looks back: the path to this successful release was not one of roses but he adds that, "It was worth all the trouble I had to go through, because today I am recognized in many countries for my music."
Anura has presented radio programmes about the beauty of Sri Lanka to a French audience through stations such as the Tropic FM, Radio Asia and Radio France.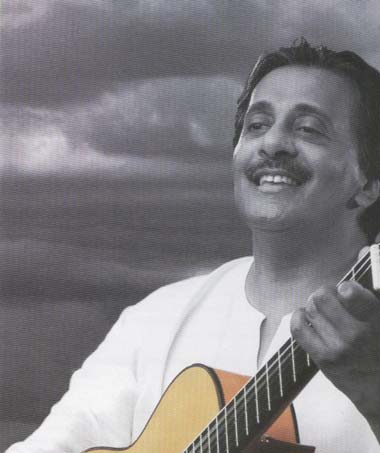 Anura was one of the first musicians to compose and sing jingles against drug abuse in Sri Lanka and even presented his song against drug abuse to the French Red Cross society. He is now working on a new instrumental to tell the world that the war has ended in Sri Lanka and that people should visit this land of peace.
Having studied at the Royal Primary and Thurstan College Colombo, Anura with the little music training that he had gained from being a part of the school choir, joined the "La Ceylonians" in 1967. "I would not be here today if it was not for my master Noel Ranasinghe who gave me a place in his band, and Lylie Godridge who trained my voice," he says with gratitude.
Anura travelled around the world, singing Sinhala songs with the "La Ceylonians". They represented Sri Lanka at the Yamaha World Popular Song Festival in Tokyo in 1967 where they received a certificate of merit for their performance. He has performed at numerous Sri Lankan food festivals in many leading hotels abroad including Hotel Maurya Sheraton in New Delhi, the Taj chain across India, Lai Lai Shangri- La hotel in Taiwan, Beverly Hills Wiltshire Hotel, USA, Hotel Hilton in Amsterdam and the Hilton in Germany.
"The Balladeers" was formed shortly after Anura left the "La Ceylonians" in 1986. His close friend Stanley Welgampola named this band and wrote the lyrics for most of his songs. The original members of "The Balladeers" were Rohan Silva who played the mandolin, harmonica, pedal steel, and guitar and also sang together with Nilantha Ariyaratne who played bass guitars and vocals. The late Asoka Ratnapala was among those who played the guitar and did the vocals for the first album of "The Balladeers"-'Welcome to Sri Lanka'.
'Welcome to Sri Lanka' was released in 1990, with 13 original compositions of the Balladeers. This incidentally was the first Sri Lankan Sinhala lyrical music CD launched in France. The CD was sold in 22 countries and three of his videos were telecast in 57 countries.
Anura is currently creating a new style in music around the flamenco, the music of the gypsies in Spain and has even got down a flamenco guitar. "I am not a flamenco guitarist and I have never learnt it under a professional but I love this music because I have many friends who play it and I've decided to create a new style using Sri Lanka as my inspiration."
Today, Anura is back in Sri Lanka, after more than 20 years in France, to enjoy the peace that has returned to the island. His second album, "Sitting Pretty in the Ocean" released in 2006 is a call to those out there to visit this "heaven on earth". He is positive that talented Sri Lankan musicians could be a great source of attraction to tourism with a little more exposure to the industry.
As the first Sri Lankan member of SACEM, the French authors, composers and editors union, Anura hopes for such a body here too and is disappointed by the lack of interest shown by those involved in the industry. Yet, he seems to have not given up on his aim -- to boost the tourist industry with the magical Sri Lankan beat.
By Afra Naufel and Azra Ameen, Pix by J. Weerasekara, Sunday Times, 8th August 2012