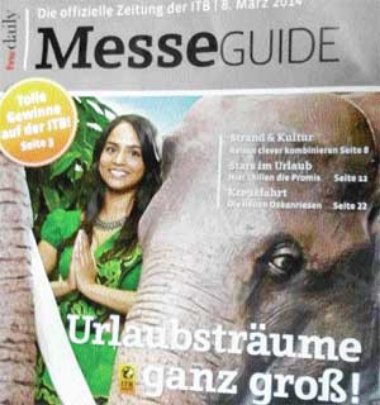 Anne Romeshika Jayamuni (24) studying for her Masters in Empirical Political Science and Social Science at the Stuttgart University , was featured in the cover page of "Messe Guide" during the ITB Berlin 2014.
ITB Berlin is the largest travel exhibition in the world and over 60 Sri Lankan travel agents and hotel companies participated at this year's Fair.
Romeshika was among a handful of volunteers who served at the Sri Lanka pavilion.
The bunch of young Sri Lankans hand picked by the Sri Lanka Embassy in Berlin to work at the Sri Lanka Pavillion made the task easier in every way for Sri Lanka Tourism Promotions Bureau staff as the former were more energetic and knowledgeable and their linguistic skills played a pivotal role.

The young Sri Lankan lasses were multi talented and their forte was traditional dancing.

During the event these lasses were able to mesmerise the visitors to Sri Lanka pavilion with their rhythmic dancing showcasing to the world our cultural heritage.

"ITB Berlin is a nostalgic event for all Sri Lankans living in this part of Germany and it brings us closer home," she said.

"We participate at all Sri Lankan events organised by the Embassy and other organizations in Berlin and around and we derive much satisfaction by engaging in these events," she said.
By Harischandra Gunaratna, The Island, 23 April 2014