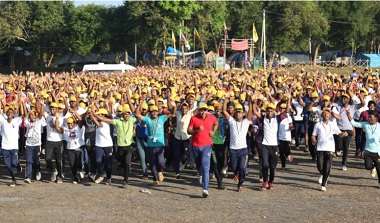 'This year's Yowun Pura' or 'The City of Youth' Leadership and Outward Bound National Programme conducted under the guidance of Hon. Prime Minister Ranil Wickremesinghe will be held from 27th to 31st March 2019 in Hambantota, Sri Lanka, bringing together 7000 Sri Lankan and 100 International young people from all around the world. This year the camp is taking place in Hambantota in the Southern Province. Each of the 25 districts in Sri Lanka will send a team to represent them at the camp and a 26th 'Worldwide' team will be comprised of representatives from across the globe. Two young persons from Germany will have the opportunity to participate as members of this team.
The campsite is a huge ground in Hambantota and each district will have their own area within the camp. International participants will stay together in one area of the camp ground. The campsite will have many facilities including a mini-market, media centre, main stage and exhibition centre. During the camp, the participants will take part in various sporting and outward bound activities, do some community work in the local area, go sightseeing to local places of interest and various other activities. There will be cultural performances and entertainment shows in the evening and other events to watch during the day.
This is a unique opportunity to take part in a huge youth conference, to try new activities, meet new people and explore Sri Lanka! Once in Sri Lanka the costs of the camp will be covered by the National Youth Services Council; including local transport, accommodation, selected activities and food. International participants must fund their own flights to Sri Lanka, travel insurance and visa.
Find more information in the Programme Overview, which also contains contact information. So take the chance for a unique experience of meeting young people from Sri Lanka and all around the world!