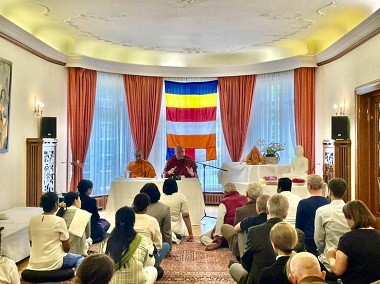 The Embassy of Sri Lanka in Berlin celebrated Vesak on 29th May, with a Dhamma Sermon delivered by Venerable Olande Ananda Thero, who travelled to Berlin from Netherlands at the invitation of Ambassador Manori Unambuwe.
The Dhamma sermon on the topic "Mindfulness - An all-time necessity" delivered by Venerable Olande Ananda Thero, was followed by an interactive discussion. Religious observances were conducted by Venerable Pelane Dhamma Kusala Thero of Das Buddhistische Haus, Frohnau.
Ambassador Manori Unambuwe welcoming the guests, spoke of the significance of Vesak for Buddhists and the importance of 'mindfulness' at a time when the world was facing many challenges, including Sri Lanka.
Addressing the audience, Mr Tissa Weeraratne of Das Buddhistische Haus, shared the history of the first Buddhist centre in Europe and the meritorious work being conducted to share the teachings of Lord Buddha in Germany.
The Dhamma Sermon was followed by offering of Alms to the Maha Sangha. The event ended with merits and blessings being conferred, for Sri Lanka to overcome the challenges and emerge strongly as a nation.
The event was attended by the diplomatic corps, members of the Sri Lankan community, and followers of Dhamma from many nations, who regularly visit Das Buddhistische Haus.
Embassy of Sri Lanka, Berlin, 29th May 2022