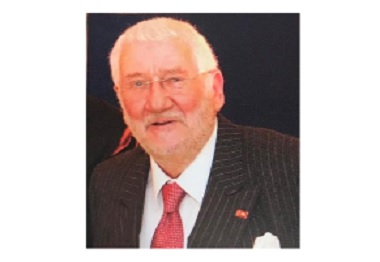 It is with profound grief that the Embassy of Sri Lanka in Germany announces the demise of Mr. Olav C. Ellerbrock, Honorary Consul for Sri Lanka in Hamburg and Schleswig - Holstein on 13th December 2020.
Mr. Ellerbrock was a great friend of Sri Lanka and contributed immensely towards enhancing the image of Sri Lanka in Germany and played a key role in fostering the excellent relations between both countries. He generously extended an honorary service in his capacity for 46 years since 1974 to a large number of Sri Lankan nationals living in Hamburg and Schleswig-Holstein. As the Chairman of Hälssen & Lyon, a renowned tea trading company of 140 years, Mr. Ellerbrock rendered a great service in promoting Ceylon Tea in Germany and internationally.
The Mission recalls with gratitude, the assistance extended by him in all the endeavours of the Mission. Our thoughts and prayers are with his family and friends at this moment of sorrow.
May His Soul Rest in Peace!
Embassy of Sri Lanka, Berlin, Germany, 14 December 2020