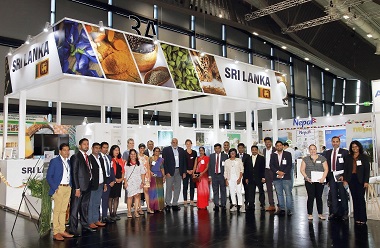 Organic food production and trade is evolving into a rapidly growing industry across the world. Prompted by a developing inclination for healthy life choices and awareness on the benefits of organic food, a greater number of global consumers are opting for organic products. In the midst of this competitive industry, Sri Lankan producers and manufacturers find themselves in lucrative circumstances.
In spite of ongoing socio-political challenges, Sri Lankan producers and exporters continue to ensure the production and export of high quality, certified products. Sri Lanka maintains a reputation in organic crop production among other producer countries; demonstrating great potential as a trustworthy, highquality contributor to international organic food markets for over a decade.
Continuing to amplify Sri Lanka's significant position within the industry, Sri Lanka Export Development Board (EDB), together with the European Union (EU), Federal Ministry for Economic Cooperation and Development (BMZ), Deutsche Gesellschaft für Internationale Zusammenarbeit GmbH (GIZ) and Import Promotion Desk (IPD), supported the participation of eleven Sri Lankan companies at the
World´s Leading Trade Fair for 'Organic Food and Natural Beauty' - BIOFACH 2022 in Nuremberg, Germany. The selected companies participated in a series of trainings and workshops carried out by EDB and IPD, to advance their networking and marketing skills prior to the trade fair.
The participating Sri Lankan companies showcased a wide range of agricultural products at the Sri Lanka Pavilion including a range of organic agriculture products such as food & beverages, spices, tea, coconut based products, fruits & vegetables. The Pavilion was a networking hub for the participating companies to display and highlight their products and capacities; establishing contacts and developing professional relationships with potential buyers and stakeholders within the European market. The Sri Lanka Pavilion was ceremoniously declared open by Mr. Suresh De Mel (Chairman, EDB) and Judith Emmerling (Head of Sourcing and Markets, IPD).
In his opening remarks, Mr. De Mel stated, "It is encouraging to see the resilience and enthusiasm of the participants despite the challenging circumstances in Sri Lanka."
This year, more than 3000 international exhibitors representing over 100 countries attended BioFach, representing the latest innovations and trends within the organic food sector.
Sri Lanka's participation in BioFach 2022 was facilitated as part of the Multi-Donor Action 'Support to Small and Medium Enterprises in the Organic Agriculture Sector' jointly co-financed by the EU and BMZ, supporting existing and new organic food producers in Sri Lanka to access new markets, particularly in the EU, as well as provide private investment opportunities.