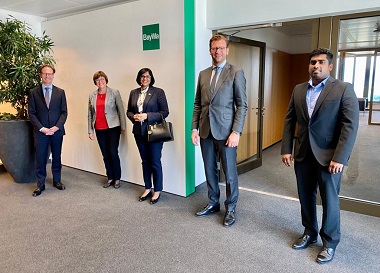 Successful discussions were held with Mr. Jörg Migende, Chief Business Development Officer Agriculture and Digital Farming, Mr. Benedikt Mangold, Head of Global Produce, and Dr. Heike Bach, Executive Director of BayWa AG on collaboration with Sri Lanka on the transition to organic agriculture on 20 July 2021 at the BayWa Headquarters in Munich.
Matters pertaining to cooperation in the areas of technology solution, "European Food Safety Control Systems" developed with the European Space Agency, (EASA), Agri-tech solutions and procurement of Sri Lankan organic agri products for German market, were discussed.

BayWa AG is a globally active group with the core segments of, Energy, Agriculture and Building Materials, as well as Innovation & Digitalisation in Agri sector. It is also one of the largest wholesale buyers of agri products for German supermarket chains.