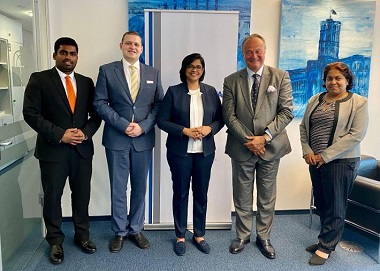 Ambassador Mrs. Manori Unambuwe held a meeting with Mr. Urs Unkauf, Federal Managing Director Federal Association for Economic Development and Foreign Trade ( BWA) and Prof Dr. Karl Pilny, Founding Director, Asia Strategy Institute.
Future cooperation opportunities for Association and Sri Lanka Cooperation in the areas of Agriculture, Logistics and Information Technology was discussed with the emphasis to attract more German investments to Sri Lanka.
Ms. Thiloma Abayajeewa, Head of Chancery and Mr. Mahesh Mahakumarage, Third Secretary of the Mission also attended the meeting
BWA is a business network and a think tank which is currently present in 80 countries across the globe.