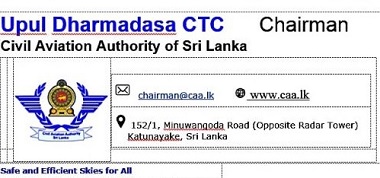 The Department of Immigration and Emigration has informed that the tourists, who are unsuccessful in making credit card payments for Electronic Travel Authorization (ETA) to travel to Sri Lanka due to the ongoing upgrade and maintenance of the ETA front end system will be issued On Arrival ETA (at the port of entry to Sri Lanka) as an alternative channel, with a view to promote the tourism industry.
This arrangement is available for all nationals except the passport holders of Afghanistan, Pakistan, Syria, Nigeria, Ghana, Ivory Coast, Cameroon, Myanmar, Nepal and North Korea.
Please be noted that it is advisable to obtain online ETA by the tourists, where possible, prior to their arrival to Sri Lanka.
Upul Dharmadasa CTC, Chairman, Civil Aviation Authority of Sri Lanka