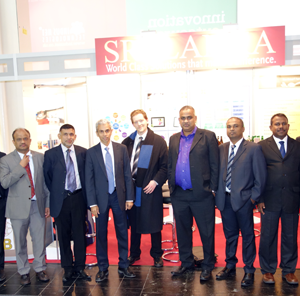 Participation in the trade show was organised in conjunction with the EDB and the Consulate General of Sri Lanka – Frankfurt Germany. CeBIT, the world's leading event for the digital economy, raised the bar this year: "International business was at the top of the agenda," said Frank Pörschmann, the Deutsche Messe Managing Board member in charge of CeBIT, at the closing press conference on Saturday.
"With even more trade professionals in attendance – accounting for over 84 percent of the total – plus the show's highly international mix of visitors from over 120 nations and the highest number of IT decision-makers and purchasing managers in attendance since a long time, CeBIT has delivered the strongest performance we have seen in the last several years. Over five action-packed days, international business and networking have clearly been the name of the game here in Hannover."
Germany's Chancellor Angela Merkel, Poland's Prime Minister Donald Tusk and Germany's Federal Minister of Economics and Technology Philipp Rösler were among the prominent delegates.
Young businesses were strongly represented at pavilions sponsored by the German Ministry of Economics and Technology
"The startup halls were bursting with fresh inspiration and energy destined to stimulate lots of downstream innovation and business growth throughout the digital economy," remarked Pörschmann. "
"The response of these youthful digital elite has been outstanding. Many of them see CeBIT as a 'cool' event because of its special mix of professionalism and emotional appeal."
CeBIT also plays an invaluable role as a socio-political sounding board.
Participating companies
This year's CeBIT attracted more international industry delegations than ever before, e.g., from Asia, the U.S., Australia and Europe, several of which were led by high-ranking government leaders. This trend was supported by the special Match and Meet delegation services on offer for the first time this year. More than 350 participants from China, Iran, the U.S., Colombia, Switzerland and Germany availed themselves of these unique services.
Recruiting Arena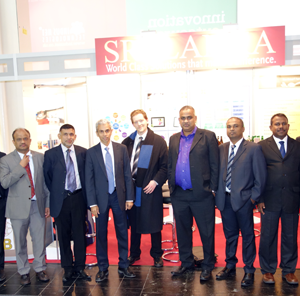 The show's dedicated recruiting arena also met with a favourable echo, with many businesses using the event to get in touch with promising next-generation candidates and seasoned professionals in search of new career challenges. In many cases, these encounters resulted in employment contracts being signed right on site. "This CeBIT has made a major contribution towards addressing the current shortage of skilled specialists in the high-tech sector," said Pörschmann.
Exhibitors were unanimous in praising their tradeshow results.
Thanks to excellent pre-show preparations, many exhibitors indicated having exceeded their targets by more than 50 percent. A total of over seven million business meetings took place over the five days of the event, which is on a par with last year's excellent outcome. Online exposure was very much on the rise, especially via social media channels. According to Pörschmann: "Anyone who participates in CeBIT automatically sends ripples throughout the Internet community. An audience of millions followed the rich array of themes on the CeBIT agenda."
The next CeBIT will be staged from 11 to 15 March 2014