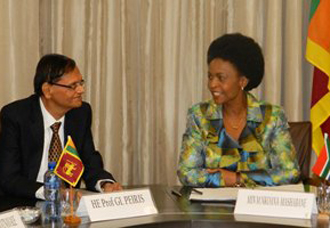 A wide range of experiences with regard to challenges in respect of nation building, shared by Sri Lanka and South Africa, serves as a strong foundation for informed dialogue on these issues. The insights deriving from this common experience make close collaboration between the two countries all the more valuable, Professor G.L.Peiris, Minister of External Affairs, said in Pretoria, South Africa, on Monday.
He was participating in bilateral discussions with Ms.Maite Nkoana-Mashabane, Minister of International Relations and Co-operation of the Republic of South Africa. Among the officials present were Mr. Shehan Ratnavale, High Commissioner of Sri Lanka in South Africa and Mr. Geoffrey Quinton Doidge, High Commissioner of South Africa in Sri Lanka.
Referring to the inspiring leadership of former President Nelson Mandela, Prof. Peiris said that a salient feature of the structures he had put in place was their home-grown quality, in many fundamental respects. Although not hesitating to draw on positive experiences from other cultures, as Mandela has explained in his fascinating autobiography, Long Walk to Freedom, he considered it vital to adapt these experiences to suit the unique context of the South African situation. The result was a model containing features which hardly bear comparison with any other set of constitutional or political arrangements, the Minister said.
Similarly, it is Sri Lanka's earnest effort, after the defeat of terrorism, to develop in an inclusive spirit structures fulfilling the special needs of our society, he explained. The Minister continued that, while collaboration on the basis of equality and mutual respect is always welcome, Sri Lanka does not consider helpful patronizing attitudes leading to attempts at external intervention.
Prof. Peiris drew attention to yet another prominent characteristic of the South African experience, with special value to Sri Lanka: namely, the deliberate decision to dispense with external mediation or facilitation in any form, and to rely instead on local creativity and resourcefulness. He recalled the observation made to him many years ago by Mr.Roelf Meyer, the chief negotiator with the African National Congress and the Minister of Defence in the Government of former South African President F.W.de Klerk, that this decision was based on the conviction --strongly held by both sides-- that no external actor could possibly have the intensity of commitment of the South African people collectively, to find a solution which is equitable and would stand the test of time. This belief is amply vindicated by Sri Lanka's own experience, the Minister observed.
Minister Peiris warmly welcomed the dynamic role now being played by South Africa, as a rising economic power, not only in African affairs but also in the global arena. South Africa's expanded role in international diplomacy significantly facilitates giving effect to the value systems which both Sri Lanka and South Africa hold to be sacred, he commented. He recalled that these values had been articulated with deep conviction by the representatives of both countries most recently at the Commonwealth Heads of Government meeting in Perth, Western Australia, which was attended by President Mahinda Rajapaksa and President Jacob Zuma.
Prof. Peiris, in his discussions with his South African counterpart, made reference to his intimate connection with South African academic and political life, going back several decades. After the completion of his doctoral thesis at the University of Oxford on avenues of development of the Roman-Dutch Law in Sri Lanka and South Africa, he had accepted with pleasure the invitation extended to him by leading South African Universities including the University of the Witwatersrand and the University of Cape Town to deliver a series of lectures. He recalled, as well, his association with the late Mr.Dulla Omar, Minister of Justice in the Mandela administration, and with Mr. Valli Moosa, at that time Minister of Constitutional Affairs.
The Minister of International Relations and Co-operation of South Africa hosted a lunch in honour of the visiting Sri Lankan Foreign Minister.
Prof. Peiris also had bilateral discussions with Mr. Ebrahim Ismail Ebrahim, South Africa's Deputy Minister of Foreign Affairs, with special responsibility for the subject in the African National Congress. During a recent visit by Mr. Ebrahim to Sri Lanka, Prof. Peiris had a bilateral meeting with him in the Ministry of External Affairs and also arranged a roundtable discussion in which a number of political personalities, academics, professionals and members of civil society took part.
The bilateral discussions in Pretoria between the two Foreign Ministers also touched on a variety of topics including expansion of the tea trade, investment promotion, co-operation in science and technology, environmental protection and enhancement, projects in the sphere of education and the possibility of direct flights between Colombo and Johannesburg.
Ministry of External Affairs
Colombo