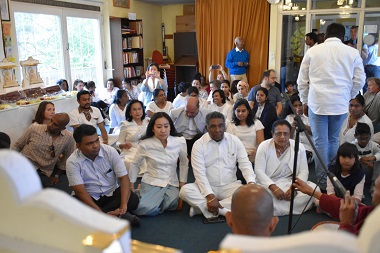 The Embassy of Sri Lanka in Berlin celebrated Vesak on 21 May 2019 at the Embassy premises with the participation of Buddhist monks, the Sri Lankan community and German nationals.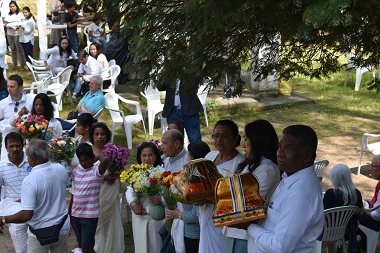 The programme commenced with the Buddha Pooja conducted by Venerable Rambukwelle Devananada Thero of the Sri Sambodhi Temple, Berlin and Venerable Mahagama Suvineetha Thero of the Buddhist Temple in Frohnau, Berlin. The Dhamma Desana held in German and Sinhala languages was delivered by the Main Patron of the Austrian Buddhist (Theravada) Association in Salzburg, Austria, Most Venerable Dr. Wijayarajapura Seelawansa Thero.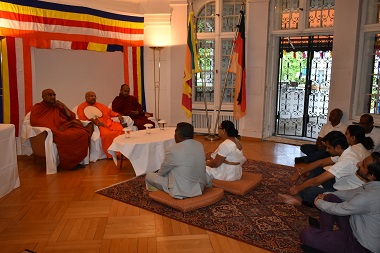 Ambassador Eng. Karunasena Hettiarachchi addressed the gathering and elaborated on the importance of Vesak, the birth of Prince Siddartha, the enlightenment of and the passing away of the Lord Buddha. He also highlighted how well Sri Lanka celebrated Vesak even in the aftermath of the Easter Sunday attack, making it also an opportunity to transfer merits to those who were killed in the attack and to invoke blessings on the injured.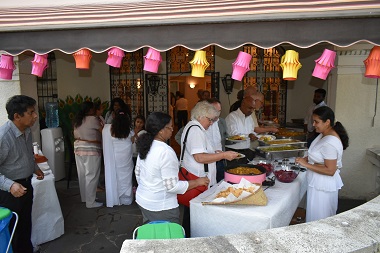 Following the dhammadesana, a vegetarian dinner buffet with Sri Lankan cuisine was served to the participants.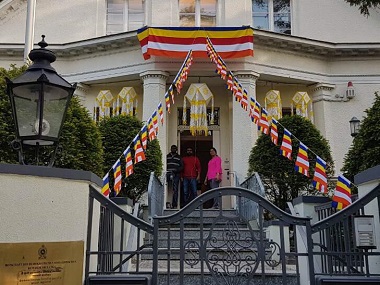 Also, the Embassy joined the Vesak celebrations held in the Buddhist Temple in Frohnau held on 19 May 2019, which included an Atavisi Buddha Pooja, an alms giving and a Dansela. In addition, the staff of the Embassy engaged in Amisa Pooja by decorating and illuminating the Embassy premises with Vesak lanterns and colourful lights.