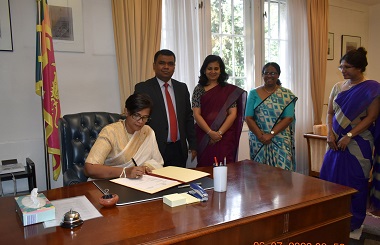 Ambassador-designate to the Federal Republic of Germany, Manori Unambuwe assumed duties at the Embassy of Sri Lanka in Berlin on 6 July 2020.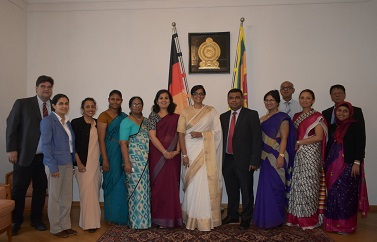 Upon the arrival at the Embassy, the Ambassador was welcomed and greeted by the staff. Following religious observances, Ms. Unambuwe officially assumed duties.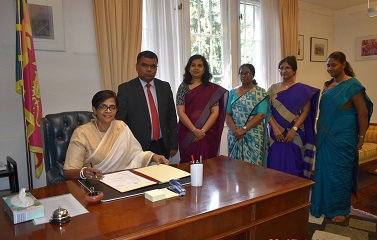 Addressing the staff, Ambassador-designate Unambuwe highlighted the importance of raising Sri Lanka's profile in Germany while focusing on promotion of trade, investments and tourism, in post Covid-19 economic revival. She also expressed her optimism that the relations between Sri Lanka and Germany and other accredited countries would be further strengthened and expanded encompassing all areas of interest during her tenure.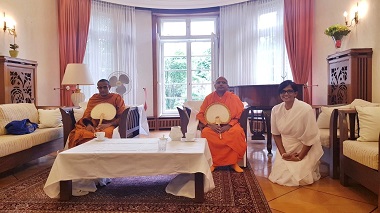 Upon the arrival of the Ambassador-designate at the official residence, religious observances were conducted and alms were offered to Most Venerable Maha Sangha.
Prior to her appointment as the Ambassador of Sri Lanka to Germany, she served as Country Manager for SAP India Pvt Ltd., and has held senior management positions in global IT companies such as IBM and Oracle Corporation. She was also a Board Director at Information and Communication Technology Agency of Sri Lanka (ICTA) and Sri Lanka Computer Emergency Response Team (SLCERT).
Ambassador Unambuwe holds a Master's Degree in Business Administration from the Australian Institute of Business, Australia.
Embassy of Sri Lanka, Berlin, Germany, 06 July 2020