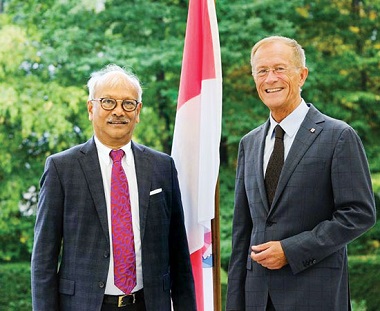 Nihal S. Samarasinha has been appointed as Honorary Consul of Sri Lanka for three Federal States in Germany, which includes Hessen, Rheinland Palatinate and Saarland.
He would be mainly promoting commecial diplomacy in the three states.
He presented his credentials to State Minister Axel Wintermeyer along with 18 other Consuls General and Honorary Consuls at the official State Residence Villa of the Minister President of Hessen.
Samarasinha, born in Sri Lanka and migrated to Germany in 1972 is the Chairman and Managing Director of Millennium Hospitality Advisory Company providing advisory services and managing and operating hotels of several international hotel brands based in Frankfurt am Main. He is an alumni of St. Joseph's College, Colombo, and graduated from the Heidelberg Hotel School, Germany, American Hotel and Motel Association, Michigan USA; Holiday Inn University, Atlanta USA and from the Ramada
International University, New York.
His focus in Finance throughout his career made him a proven financial expert with vast analytical skills.
Samarasinha has held senior management positions in organisations such as Holiday Inn WorldWide (Europe) as Director of Finance; Canadian Pacific Hotels – Europe, Middle East, Africa (EMEA) as Regional Comptroller and Ramada International Hotels and Resorts as Vice-President of Finance and Internal Audit for Europe, Middle East and Africa (EMEA), India and Sri Lanka. He has been engaged in the hospitality industry since 1972 with remarkable success.
Over the years Samarasinha has developed strong bonds with Sri Lankans in all parts of Germany and had assisted them in numerous ways long before he was first appointed Honorary Consul for the Federal state of Rheinland Palatinate in 2010.
He is a co-founder of the Diplomatic Council in Frankfurt along with the former Sri Lanka's Consul General in Frankfurt Buddhi Athauda, The Diplomatic Council acted as a springboard to promote Sri Lanka Tourism, Trade and Culture in an environment of commercial diplomacy.
Source: https://island.lk/nihal-samarasinha-appointed-hon-consul/