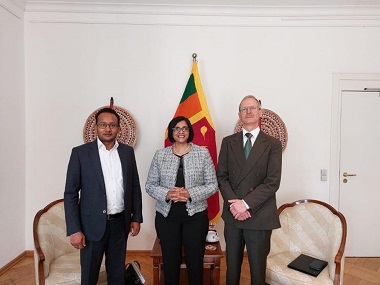 Ambassador Manori Unambuwe met with Dr. Mario Protzmann, Managing Director and Don Sithijaya Lakmanaarachchi, Director, Exports of Maltaflor International GmbH on potential collaboration with Sri Lanka on its transition to organic agriculture on 9 August 2021 at the Embassy premises.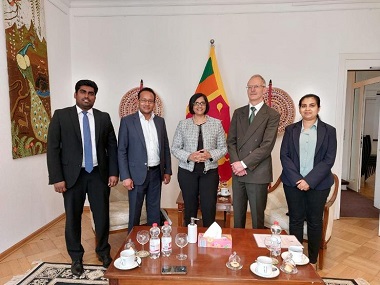 The meeting covered a multitude of areas of cooperation with Sri Lanka especially in the sectors of sustainable revitalization of plantations, rehabilitation of soil and organic stimulants for plant growth. Dr. Mario Protzmann hailed the efforts of the GoSL in particular the visionary leadership of HE the President's and decision on 100% transition to organic agriculture and assured of his company's fullest cooperation and assistance to successfully carry out the ambitious project.
The Maltaflor International GmbH was founded 1994, as a subsidiary of Weissheimer Malzfabrik KG (founded in 1864) in Andernachand and working on new fertilizer technologies in which growth components contained in malt germs are used with the help of bionics. MALTaflordünger provides solutions with healthy plant growth in all areas, for agriculture ranging from small scale to large scale commercial agriculture with optimal use of natural resources preserving microbial activities of soil.