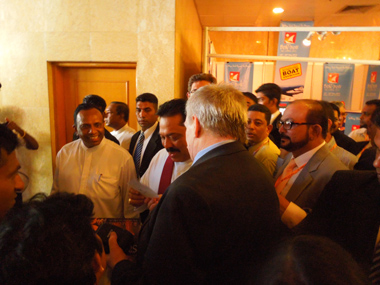 The Sri Lanka Expo 2012, an international trade exhibition organized by the Sri Lanka Export Development Board (SLEDB) with the support of entrepreneurs in the private and public sectors, was held from 28 to 30 March 2012 at the BMICH, Colombo, Sri Lanka. It took place after a lapse of several years following the successful ending of the three decades of civil conflict with the objectives of promoting trade, investment and tourism as well as instilling confidence among the buyers of Sri Lankan goods and services.
German participants of Sri Lanka Expo 2012 looking for more trade and business opportunities with Sri Lanka.
Sri Lanka has entered a period of rapid development following the successful ending of the long conflict. In coupling with this development progress, Sri Lanka Expo 2012 had been a spectacular showcase of Sri Lanka's export potentials and strengths in the state of art technology, green manufacturing techniques and the capacity to meet high international standard in one single platform venue.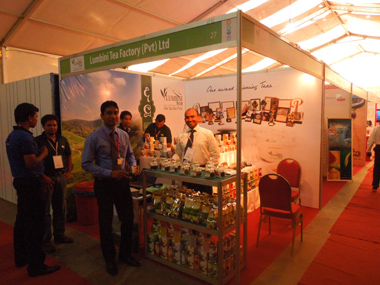 Having transformed the economy from traditional agricultural produce to high and value added products Sri Lanka has expanded its export markets to reach the world over. The exhibition displayed an array of traditional and non traditional products under the sectors of agriculture & fisheries and industrial products and trade services. Over 372 Sri Lankan companies showcased the diversity, capacity and potential of the export sector.
Thirty-seven prominent entrepreneurs and major buying house representatives from Germany also visited the Expo 2012 and they were highly impressed by the Sri Lanka's trading and business potentials showcased in the Expo. They appreciated the Sri Lankan hospitality provided by the organisers, the SLEDB and the facilitation coordinated by the Sri Lanka Mission in Germany for their successful participation. Surprised by the Sri Lankan culture and the cheerfulness of the people living in Sri Lanka many of the participants have decided to spend their next family vacation 2013 in Sri Lanka.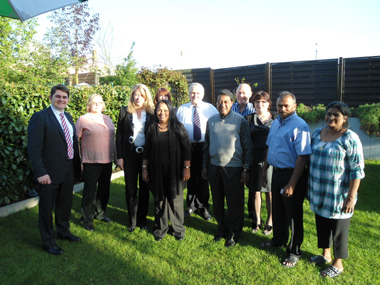 On returning from the Expo, the group of enthusiastic German participants of the Expo convened a dinner meeting with the Ambassador of Sri Lanka in Germany, H.E. Sarrath Kongahage and reiterated their keen interest in doing more business with Sri Lanka. They expressed their amazement about the great interest of the Sri Lankan local companies attending the Expo. Another group of German participants has also ventured into a project to market Sri Lankan handicrafts and hand looms cotton textiles made by livelihood projects of the conflict-affected widows supported by the Ministry of Industry and Commerce in the German market.
Due to the overwhelming interest among the business communities in Germany and Switzerland on Sri Lanka's business opportunities after ending of prolonged conflict of thirty years, the Sri Lankan Mission in Germany has organized the First Swiss Sri Lanka Business & Investment Forum in Geneva and Zurich on 11th & 12th of June 2012 in Coordination with the Swiss Chamber of Commerce in Switzerland.
Embassy of Sri Lanka
Berlin, Germany.