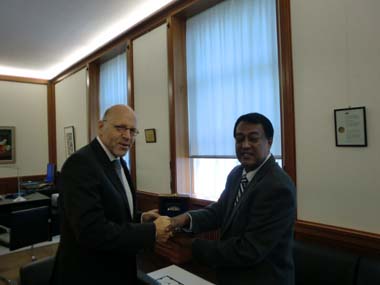 H.E. Sarrath Kongahage met with Dr. Harald Braun, State Secretary of the Federal Foreign Office of the Federal Republic of Germany, at the Federal Foreign Office on 2nd August 2012.
During the meeting, the Ambassador comprehensively briefed State Secretary Dr. Braun about the current developments in Sri Lanka regarding the reconciliation, reconstruction and rehabilitation process during the post-conflict period in the country. H.E the Ambassador detailed to the State Secretary that ninety-eight percent of the displaced people had already been resettled and eighty per cent of the area contaminated with land mines had been cleared.
The State Secretary appreciated the accomplishments with regard to the rehabilitation and resettlement programme in the Northern and Eastern provinces and the post–conflict economic development drive in the country. The State Secretary further expressed satisfaction about the remarkable achievement in clearing the land mines, which paved the way for rapid resettlement.
In this context, H.E. the Ambassador thanked the German Government for its consistent support in the post-conflict development in Sri Lanka, including building a hospital in Karapitiya, the vocational training institute, which is currently being built in Kilinochchi, and the support for clearance of land mines.
H.E, the Ambassador also briefed the State Secretary with regard to the National Action Plan, which has been approved by the Cabinet of Ministers to implement the LLRC recommendations on 25th July 2012. The National Action Plan has identified key elements. An 8-member task force will coordinate and facilitate the task of implementing the LLRC recommendations. A copy of the National Action Plan for the protection and promotion of human rights was handed over to the State Secretary.
H.E the Ambassador recalled the visit of Mr. Juergen Klimke, Member of German Federal Parliament, accompanied by Mr. Ian Karan, a Sri Lankan-born businessperson and former economics minister in the state government of Hamburg, who requested the State Secretary to arrange a similar visit of members of the German Federal Parliament to observe developments at first hand.
On the meeting, H.E. the Ambassador and State Secretary discussed the celebration of the 60th anniversary of bilateral relations between Sri Lanka and Germany in both countries in 2013.
The State Secretary stated that Sri Lanka and Germany possess unexplored potentials, and as the situation is conducive in Sri Lanka, both countries could focus on further investment, trade and tourism in the near future.
At the end of the meeting, H.E the Ambassador presented the State Secretary with a souvenir depicting the culture of Sri Lanka.
The meeting was attended by the Deputy Head of the South Asia Division of the Federal Foreign Office, the Second Secretary of the Embassy of Sri Lanka in Berlin.
Embassy of Sri Lanka, Berlin, 9th August 2012