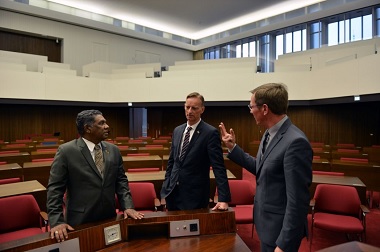 Ambassador Karunasena Hettiarachchi paid an official visit to Bremen from 13-15 November 2017. Following a ceremonial welcome, discussions were conducted with Bremen Mayor Carsten Sieling on political and economic developments in Sri Lanka since 2015. Ideas about future cooperation opportunities were exchanged during the meeting.
The new Ambassador of Sri Lanka was welcomed by Vice-President Frank Imhoff at his first official visit in the Bremen Parliament. Imhoff and Hettiarachchi exchanged views about the legislative structures and visited the plenary hall of the Bremen parliament. The Ambassador also mentioned that Sri Lanka wants to intensify its trade and tourism with Germany.
After the appointment in the parliament, the Ambassador also visited the town hall and the Chamber of Trade and Commerce. The programme also included a visit to Lürssen shipyard in Bremen, where discussions on future cooperations in the fields of defense and ship construction took place. The visit was organized by Mr. Thomas Kriwat, the Sri Lankan Honorary Consul in Bremen.