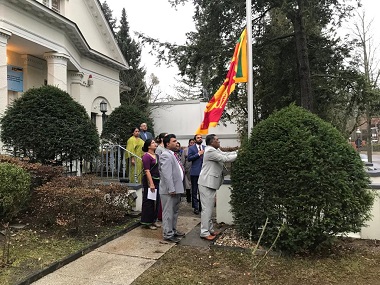 The staff of the Embassy of Sri Lanka in Berlin held a special ceremony at the Embassy premises to commence the new work year 2019.
The event started with the hoisting of the National flag by Ambassador Eng. Karunasena Hettiarachchi, followed by the singing of the National Anthem. A two-minute silence was observed to commemorate war heroes and others who sacrificed their lives for the motherland. Affirming their commitment, the reading of the oath of public servants was administered by the staff of the Embassy in three languages, Sinhala, Tamil & English.
Ambassador Hettiarachchi extended his warm wishes for the New Year and commended the achievements of the Mission during the year 2018. The Ambassador further requested continuous support and dedication of the staff to achieve success in Mission activities in commencing year.
The ceremony concluded with a traditional breakfast prepared by the Mission staff.