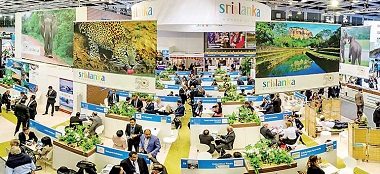 The Embassy of Sri Lanka in Berlin is in the process of finalizing arrangements for the participation of ITB 2019.
In view of that, the Embassy would appreciate to receive quotations for the following:
1. Catering for the Opening Ceremony - Menu should include 400 pieces of Kiribath with Lunumiris, Kattasambal, Seeni Sambal, Banana and Sri Lankan sweets (04 varieties - Konda Kewum, Kokis, Milk / Coconut Toffee and Chocolate Cake)
2, Lunch for the staff at the Sri Lankan Pavillion - From 06th to 12. March 2019, to be provided with the following menu: Rice and meat (chicken/fish/prawns), 3 vegetables, papadam and yoghurt, Please note that no beef and pork is to be served, 25 - 30 lunch packets to be provided on average each day.
Deadline for the submission of quotations: 19.02.2019
Quotations to be submitted addressed to H.E. the Ambassador, Embassy of Sri Lanka in Berlin, Niklasstr. 19, 14163 Berlin,