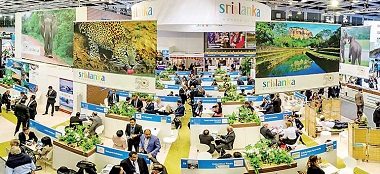 The Embassy of Sri Lanka in Berlin is in the process of finalizing arrangements for the participation of ITB 2020.
In view of that, the Embassy would appreciate to receive quotation for the following.
1. Catering for the Opening ceremony
2. Photography and Video
3. Vehicles
1. Calling of Quotation for Catering - ITB 2020
Menu should include ;
- Kiribath with Lunumiris , Kattasambal, Seeni sambal (For 170 persons)
- Sri Lankan sweets - 02 varieties ( Konda kewum, Kokis, etc. )
2. Calling of Quotation for Photography and Video - ITB 2020
To cover all the event to be held from 04th to 08th March 2020 at the Sri Lankan Pavilion connected with Sri Lanka´s participation at ITB at Messe, Berlin
3. Calling of Quotations for Vehicles - ITB 2020
1 van ( 07 seater) from 03rd to 8th March for ITB related works, including transportation of promotional materials etc.

Deadline for the submission of quotation - 28.02.2020
Quotations to be submitted addressed to :-
C d´A a.i.
Sri Lanka Embassy in Berlin
Niklasstr 19
14163 Berlin.