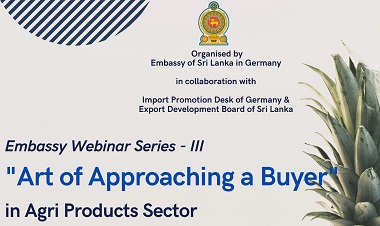 This is the 3rd in the webinar series being organized by the Embassy of Sri Lanka in Germany in collaboration with the IPD Berlin and Sri Lanka Export Development Board focusing on Agri sector exports to Germany and EU.
In his welcome address, Mr. Suresh De Mel, Chairman, EDB highlighted the importance of adopting the right approach in reaching out to buyers in the EU market, especially through virtual channels in the current context and thanked the IPD for setting up a Hub in Sri Lanka.
Mr. Gustavo Ferro, Lead Expert on Market Intelligence together with Ms. Vanessa Kuth, Organic Food Consultant, hosted the forum in an interactive session and shared their wide experience and expertise on strategies to identify the right buyer and how to connect with them through various channels, in ensuring the communication gets the buyer's attention. Real world examples were shared along with a case study of WORGA NATURALS a Sri Lankan exporter of organic dehydrated fruits and organic spices who successfully entered the European market by adopting these strategies with the support of IPD. Ms. Linda Mense, International Trade Consultant of the IPD Berlin moderated the expert forum.
Concluding the virtual session, HE Manori Unambuwe, Ambassador of Sri Lanka to Germany thanked the stakeholders for their support and shared insights on next virtual sessions targeting the Agri sector whilst inviting them to join the next webinar on " European Standards and Certifications" in October.
You can find the webinar on Youtube under https://www.youtube.com/watch?v=uZH3LRpA_Jo&t=1846s.