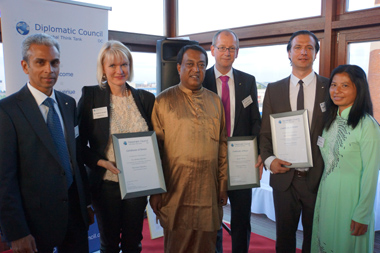 H.E. Sarrath Kongahage has been elected as the new President of the Diplomatic Council, an international think tank headquartered in The Hague / Netherlands. The fundamental objective of the Diplomatic Council is to encourage international relations among the peoples following the principles of the charter of the United Nations Organizations. Ambassador Sarrath Kongahage is the first Sri Lankan Ambassador to hold the stewardship of the prestigious Diplomatic Council.
Addressing the gathering after the election for the new post as President of the DV, Ambassador Kongahage said that the main aim of the Diplomatic Council was to contribute the power of diplomacy for peace everywhere on earth. He furthered tjat 'worldwide cooperation is the only instrument, which may help in solving international problems on any level, economical, social, cultural or humanitarian. The respect of human rights and the fundamental freedom of people without differentiation of races, gender or religion should be cultivated and strengthened. This is what the Diplomatic Council stands for.'
The Diplomatic Council has been founded with the target of promoting the international understanding among the peoples. This includes an intensive support of global business contacts and international trade relations. The global think tank with a membership of more than 2500 diplomats and personalities from business, society, culture, sports and politics worldwide offers its members intensive support through its corporate partners and sponsors. With its support of institutions like the Eliya Children's Home in Sri Lanka and the Dhulikhel Hospital in Nepal and the partnership with the Shopping for Charity Foundation, the Diplomatic tries to make the world a better place.
Embassy of Sri Lanka
Berlin, Germany.
11 June 2012