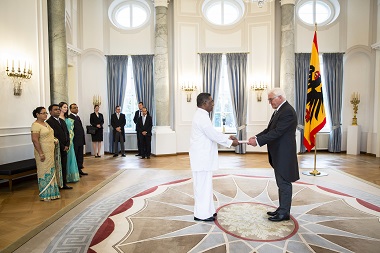 (Image Source: Bundespresseamt / Sandra Steins)
The newly appointed Sri Lanka Envoy for Germany, Eng. Karunasena Hettiarachchi presented credentials to His Excellency Frank-Walter Steinmeier, President of the Federal Republic of Germany, at the Honour Court of Bellevue Castle on 20th September 2017.
On the occasion, Ambassador Hettiarachchi conveyed the greetings and best wishes of His Excellency the President and the Hon. Prime Minister of Sri Lanka and reiterated the commitment of the Government of Sri Lanka to strengthen bilateral relations between the two countries.The Ambassador also thanked the Federal President for his assistance and goodwill towards Sri Lanka during his tenure as the Federal Foreign Minister.
During the cordial discussion that ensued, Ambassador Hettiarachchi briefed the Federal President of the significant progress made in Sri Lanka, on reconciliation, reconstruction and economic development following the election of Unity government in 2015.
Welcoming the new Ambassador, President Steinmeier stated that a positive environment has been created for greater collaboration with the international community by the policies of the new government in Sri Lanka. He further highlighted the importance of strengthening relations between the two countries, particularly in the fields of culture, trade, investment and tourism.
The Federal President assured his support and that of his staff to the new envoy in pursuing initiatives for greater cooperation between the two countries.
Ambassador was accompanied by his wife, Mrs. Wasantha Gunawardana, the Counsellor/ Head of Chancery Mr. U. Ahamed Razee, Second Secretary Mrs. T.N. Arnolda and Third Secretary Mr. A. G. Gamini Wijayarathna.
Embassy of Sri Lanka
Berlin
21st September 2017