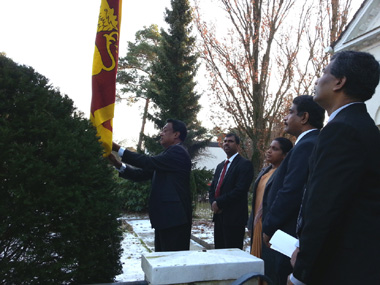 The Embassy of Sri Lanka in Berlin has celebrated this year's Day of Independence with a Ceremony on 4th February and a Reception on 8th February. Both events took place at the Embassy premises.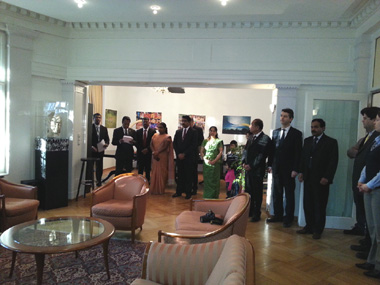 On 4th February, The official ceremony commenced with the National Flag being hoisted by H.E. Ambassador amidst the beating of 'Magul Bera' followed by the recital of the National Anthem. Two-minute silence was observed in honour of all war heroes and the people who sacrificed their lives to preserve and protect the freedom, unity, sovereignty and territorial integrity of the motherland. The Ambassador read the National Day Message of H.E. the President Mahinda Rajapaksa.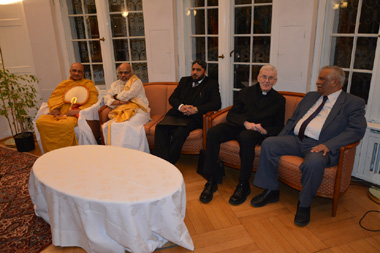 On 9th February, a reception was held at the Embassy. More than 150 members of the Sri Lankan community, friends of Sri Lanka, journalists and artists were present. The reception was opened with the lighting of the traditional oil lamp. Respective religious leaders representing Buddhist, Hindu, Christian and Muslim religions while blessing the country and the people conducted the religious observances. The National Day messages of H.E. the President, Hon. Prime Minister and Hon. Minister of External Affairs were read out in Sinhala, Tamil and English languages respectively.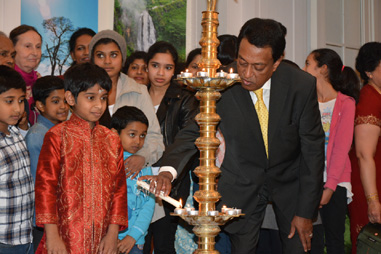 Addressing the gathering, Ambassador Sarrath Kongahage stated that the sacrifices of the armed forces under the leadership of H.E the President Mahinda Rajapaksa made this country reach real independence, he reminded the guests of the bounden duty of everyone to work hard for the uplifting of the Motherland.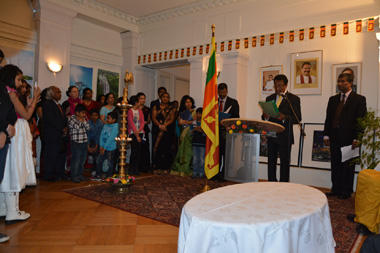 The Ambassador further noted that he has observed a significant feature in this year independence celebration at the Embassy. Every year there had been a demonstration in front of the Embassy. This year there was no demonstration at all, which revealed the mind change of the Tamil population living in Germany.

"I am indeed very happy that the Tamil population has understood the reality and is no longer prepared to listen to pro-LTTE elements. People are busy in establishing their life, educating their children and visiting the motherland, which is exemplary for the other Tamils living in foreign countries" the Ambassador added.

The Embassy is also cordially attending on time to their needs, such as processing passport applications, registrations of birth, death and marriages, and providing Tamil Language learning books, the Ambassador further said.

After the ceremony, the guests were entertained to a traditional Sri Lankan rice and curry dinner.