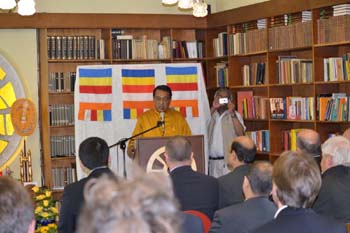 2600 years of Sambuddha Jayanthi was celebrated in a grand scale at Das Buddhistische Haus (Buddhist Temple) in Berlin, Germany on 6 th May, 2012. The celebrations were jointly organized by the Sri Lanka Embassy in Berlin, Das Buddhistische Haus and the Sri Lanka Association in Berlin.
On the invitations extended by H.E. the Ambassador, Sarrath Kongahage, the Ambassadors and the diplomats from Singapore, India, Thailand and Nepal were participated in the celebrations.
The full day celebration included alms giving to Maha Sangha, meditation, observance of Sil, dhamma discussion etc. The celebration was held under the guidance of Ven. K. Santharakkhita Thero, resident monk of "Das Buddhistische Haus" in Berlin.
The entire premises of the temple was aptly decorated with Vesak lanterns and lights.
Sri Lanka Embassy,
Berlin.
7th May 2012