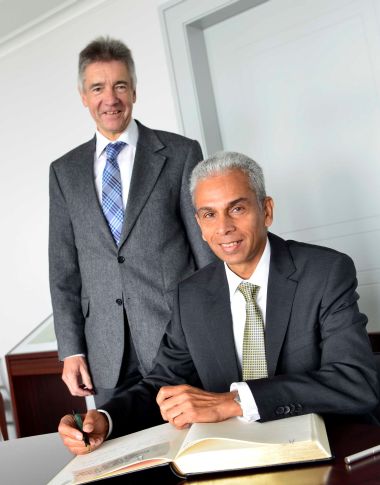 On 21st August 2014 the Consul General of Sri Lanka, Pradip Jayewardene, visited Duesseldorf Chamber of Commerce, which is the Trade Chamber for the City Duesseldorf, Capital of the Federal State Northrhine-Westfalia and the surrounding Region having more than 80,000 Member companies. He is the first Sri Lankan Representative to visit this important Chamber and during his visit signed the Golden Book of the Chamber.
During the Meeting the Consul General used the opportunity to present the developments in Sri Lanka to the Chamber and introduced them the importance of Sri Lanka as a regional hub for German companies. The facts and figures were highly appreciated by the Chambers Officials who showed high interest in further developping trade relations between their members and Sri Lanka.
To achieve this it was decided as a next step that the Chamber will host a round table conference on Sri Lanka and invite it's members where they can meet high ranking Sri Lankan Officials to inform them on the country.