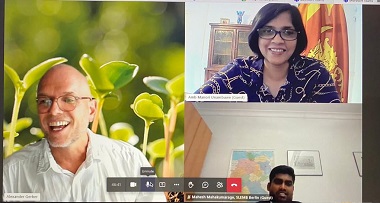 Successful discussions were held by Ambassador Manori Unambuwe with Dr. Alexander Gerber, Vice President and Board Member of Biodynamic Federation Demeter on collaboration with Sri Lanka on the transition to organic agriculture.
Potential areas of assistance in knowledge transfer and training of farmers were discussed.
Biodynamic Federation Demeter International is the umbrella organisation supporting 6500 farmers with more than 220.000 ha in 65 countries in biodynamic farming methods. Biodynamic agriculture is a form of alternative agriculture very similar to organic farming.