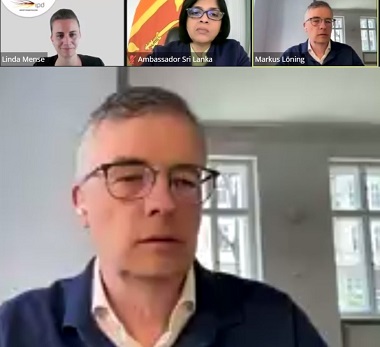 In pursuit its continued efforts to raise awareness amongst Sri Lanka export community on the upcoming EU Legal Framework on Supply Chain Due Diligence, the Embassy of Sri Lanka in Germany, together with the Joint Apparel Association Forum (JAAF) organized a webinar for the apparel sector on 25 March 2022.
German parliament in June 2021 enacted the Due Diligence laws, while a comprehensive legislation is currently being deliberated at the European parliament and expected to come into force from January 2025. The laws will require European companies which are engaged in businesses with international partners, to comply with the due diligence legislation, paying the highest priority for the worker-related human right conditions of every individual engaged in manufacturing process throughout the entire supply chains.
In her opening remarks, Manori Unambuwe, Ambassador of Sri Lanka to Germany, commended the apparel sector for being a global pioneer in the certification "garments without guilt", whereby labour rights and working conditions of the sector was safeguarded. With Apparel being over fifty percent of the total exports to EU, the Ambassador emphasized on the need to ensure compliance with the upcoming laws in the EU, for an uninterrupted supply and protecting and enhancing the market share.
Mr. Yohan Lawrence, Secretary General of the JAAF highlighted the importance of the webinar and shared insights into recent trends of the Sri Lankan apparel industry, with an emphasis on trade volumes between Sri Lanka and Germany.
The principal panelist, Mr. Markus Löning, Managing Director of Löning Consultancy, in his presentation elaborated on the emergence of the Due Diligence laws and the deliberation process within the European community, to formulate an inclusive approach towards safeguarding all the links within the supply chain, in every sector. Mr. Löning highlighted the need to adhere to the timeline and urged the industry to take early decisions to set up its own internal mechanisms, enabling Sri Lankan companies to achieve a competitive edge, by the time the laws come into force.
Ms. Alice Homuth, International Consultant, supplemented the views of Mr. Löning sharing her extensive work experience in Sri Lanka and drew out special instances where Sri Lankan companies have performed well in the international stage within the due diligence context, through innovative Corporate Social Responsibility activities.
Ms. Homuth shared her insights on the practices Sri Lankan companies could follow to cope with the upcoming reporting obligations and setting standards, while enhancing its market share in the European single market. Special emphasis was given to Human Rights Risks Management System focusing on risk analyses, preventative measures, remedial action, grievance mechanism, documentation, and reporting criterion of individual companies, to their respective business partners in the EU.
The Session was moderated by Ms. Linda Mense of the Import Promotion Desk of Germany, based in Colombo at the Sri Lanka Export Development Board (EDB).
Embassy of Sri Lanka, Berlin, Germany, 29 March 2022