Press Release - MoU signed between ICTA Sri Lanka and enpact e.V, Germany to collaborate between startup ecosystems and Webinar on AgriTech and WaterTech.
The Embassy of Sri Lanka in Germany initiated and facilitated the signing of a MOU between the Information and Communication Technology Agency (ICTA) of Sri Lanka and ENPACT e.V. in Berlin, Germany, which represents the Berlin Senate's startup initiative "AsiaBerlin", on 08 April 2021, with a view to fostering a strong bridge between Berlin, the startup capital of Europe and Sri Lanka's startup ecosystem. Mr. Mahinda B. Herath, Chief Executive Officer of ICTA and Mr.Jan Lachenmayer, Managing Director of ENPACT placed their signatures on the MOU in a virtual ceremony.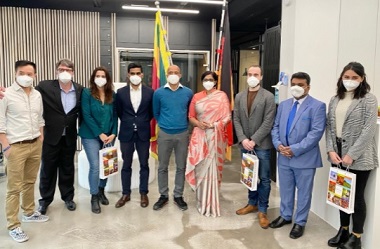 During the ceremony, Mr.Jayantha De Silva, Secretary to the Ministry of Technology of Sri Lanka, welcomed the MOU and highlighted some of the initiatives being implemented in the digital transformation journey of Sri Lanka, including the establishment of "Techno Parks," across the island, as a part of the vision of His Excellency the President, to build a technology-centric economy.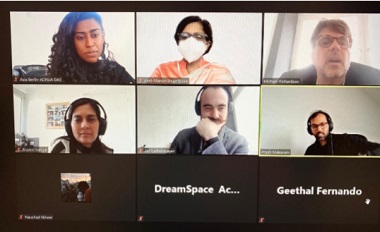 The Chairman of ICTA, Prof. Lalith Gamage briefed on the strategy of Sri Lanka to nurture the startup and innovation ecosystems and emphasized that the MOU was a great initiative to share knowledge and encourage technology-focused investments, and related services.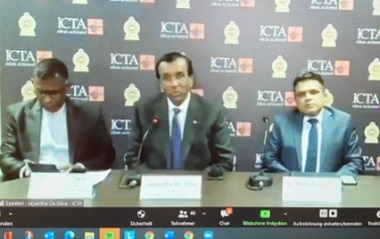 Mr. Jan Lachenmayer, Managing Director of ENPACT welcomed the initiative by the Embassy to connect the relevant Sri Lankan agency for collaboration and expressed his confidence that the MOU will pave way for greater collaboration for innovation and create opportunities for both parties.
The virtual ceremony, moderated by Mr. Aravinth Panch, AsiaBerlin Ambassador, was followed by a webinar on AgriTech and WaterTech, attended by around 60 participants, globally.
In the panel discussion moderated by Mr. Matthias Schmidt-Rex, Head of Corporate Innovation of ENPACT, Ambassador of Sri Lanka in Germany H.E. Manori Unambuwe, highlighted the importance of technology infusion to the agriculture sector in Sri Lanka and the emphasis placed by H.E. President Gotabaya Rajapaksa on same, in the country's development agenda. Ambassador Unambuwe further stated that the MOU between ICTA and ENPACT was a significant milestone, to foster innovation and opportunities between both startup ecosystems, especially in the fields of Agritech and WaterTech.
Dr. Rainer Seider, Deputy Head of Division for Energy, Digitalization and Innovation of the Berlin Senate, while welcoming the participants, thanked the​ Embassy of Sri Lanka in Germany's endeavours in promoting cooperation between the two countries.
Mr. Mike Richardson, AsiaBerlin Ambassador, CTO and co-founder at Vitreo, Mr. Ronnie Tan, Advisor at BASF, Mr. Christopher Aw, Pandsan Ventures of Singapore and Mr. Tunyawat Kasemsuwan, Director, Global Innovation at Thai Union Group of Thailand, presented business models and case studies of innovations by startups in the fields of agriculture and water. The participants held in-depth discussions during the virtual breakout sessions that followed.
Embassy of Sri Lanka, Berlin, Germany, 09 April 2021