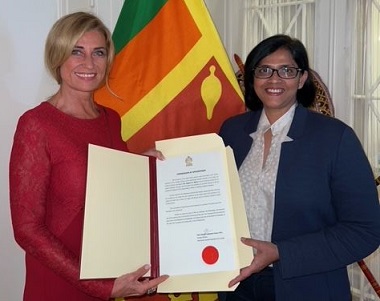 Ambassador Manori Unambuwe handed over the Commission of Appointment to Ms. Dagmar G. Wöhrl, the newly appointed Honorary Consul of Sri Lanka in the Free State of Bavaria, Germany, on 13th June 2022.
While extending her felicitations to the Honorary Consul, Ambassador Unambuwe expressed hope that the appointment will provide an impetus in further enhancing bilateral ties between the countries and be an asset in the road to economic recovery of Sri Lanka.
The appointment of Honorary Consul by the Government of Sri Lanka, made with the concurrence of Government of Federal Republic of Germany, anticipates further expansion of ties with one of the most industrialized regions of Germany, which is also a noteworthy tourism source destination for Sri Lanka. The State of Bavaria that is affiliated with a considerable segment of Sri Lanka's trade with Germany, is also the home to well-known automobile, aerospace and transport manufacturing plants and pharmaceutical industries of Germany.
Ms. Dagmar G. Wöhrl is a veteran German Politician with over 23 years of distinguished service at the German Bundestag in various capacities that includes her position as the Parliamentary State Secretary to the Federal Minister of Economics and Technology and Coordinator of the Federal Government for the Maritime Industry as the Parliamentary State Secretary.
The Sri Lanka Embassy in Berlin looks forward to working with the newly appointed Honorary Consul, in providing consular assistance to Sri Lankans in Bavaria and to promote trade, tourism and investment to Sri Lanka within the jurisdiction of Bavaria.
Embassy of Sri Lanka in Berlin, Germany, 14 June 2022