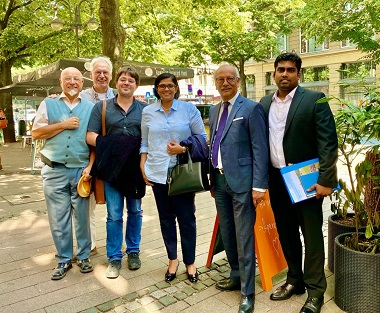 Ambassador of Sri Lanka to Germany, Manori Unambuwe held extensive discussions with Dr. Robert Hermanowski Managing Director of The Research Institute of Organic Agriculture (FiBL), Germany, Mr. Tobias Eisenring of FiBL Switzerland and Dr. Uli Zerger, Managing Director of the Foundation of Ecology and Agriculture (SÖL) to obtain support for Sri Lanka in its transition to organic agriculture, on 19 July in Frankfurt.

Dr Hermanowski congratulated Sri Lanka on its bold decision to transition to organic agriculture and expressed deep interest in supporting the initiative. The discussions centred around potential collaboration with FiBL on technical advisory, training and providing specialist information for Sri Lanka's agri sector. FiBL is one of the world's leading institutes in the field of organic agriculture and specializes in its interdisciplinary research and innovations developed jointly with farmers, solution-oriented development projects and rapid knowledge transfer from research into practice.
Mr. Nihal S. Samarasinghe, Honorary Consul of Sri Lanka in the German States of Rhineland-Palatinate and Mr Mahesh Mahakumarage, Third Secretary of the Embassy were also present at the discussions.