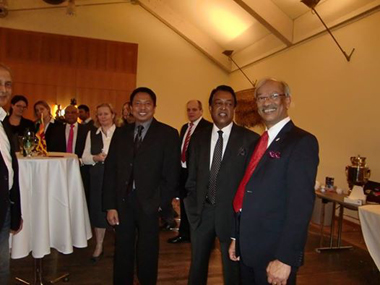 The Honorary Consul of Sri Lanka for Rhineland-Palatinate, Mr. Nihal S. Samarasinha, organised an event to celebrate 60 Years of Diplomatic Relations between Sri Lanka and Germany and the 66th Independence Day of Sri Lanka with a reception and commercial exhibition organised in cooperation with the Embassy of Sri Lanka in Berlin.
The Honorary Consul presided over the event. The Sri Lankan Ambassador, H.E. Sarrath Kongahage, and the Mayor of Mainz-Bodenheim, Mr. Thomas Becker-Theilig, were the guests of honour on the occasion. More than 450 persons including Sri Lankan expatriates and business personalities attended the event.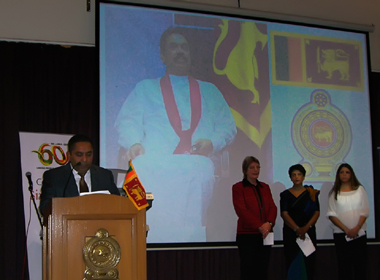 The event commenced with the lighting of the traditional oil lamp followed by the reading of the National Day Message of H.E the President Mahinda Rajapaksa in the national languages of Sri Lanka as well as the German language.
A commercial exhibition had been organized with Sri Lankan business organizations and entrepreneurs showcasing their products and opportunities. There were stalls with Sri Lankan tea, gemstones and herbs. Sri Lankan Airlines and the Sri Lanka Business Council were present at the event. One Sri Lankan radio station was present and provided information about their programme.
Addressing the gathering, H.E the Ambassador briefed the business community from Rhineland-Palatinate of Germany on the vast potential for investment and trade with Sri Lanka. The ambassador further highlighted the skilled workforce, the strategic geographical location, the infrastructure facilities, the good banking system and investor friendly regulations, which included protection of foreign direct investment under the Constitution of Sri Lanka, as attracting factors for investors on the island. There were increasing numbers of tourist going from Germany to Sri Lanka, which has a tremendous scope for investment in the tourism sector, the Ambassador pointed out.
The guests were also treated to a Sri Lankan buffet and pure Sri Lankan tea. As a special treat, there was a raffle draw with an airway ticket to Sri Lanka as special price.