CURRICULUM VITAE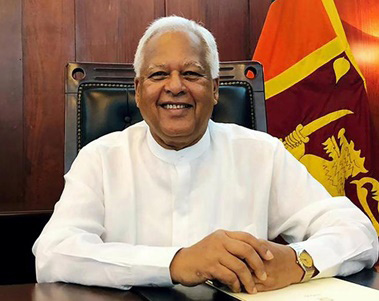 Name : Dr. Sarath Amunugama
Age : 79 Years (Date of Birth - 10/07/1939)
Academic Qualifications
i) 1986 - PhDs in Social Anthropology, Ecole des Haute Etudes en Science Sociale, Paris, France
ii) 1973 - Master of Arts in Social Sciences (University of Saskatchewan) Canada·
iii) 1961 - Bachelor of Arts (University of Ceylon). Honours Degree in Sociology
iv) 1990 - 1991 - Visiting Fellowship, Harvard University, USA
1991 to date In Politics
1992 - 1994 Member of Central Provincial Council, Sri Lanka
1994 - 2018 Member of Parliament, Sri Lanka
1999 - to date Member of Parliament and Minister in the Government of Sri Lanka
Minister of Rehabilitation, Sri Lanka Minister of Irrigation & Water Management, Sri Lanka Minister of Education and Higher Education, Sri Lanka Minister of Finance and Planning, Industries & Investment Promotion, Sri Lanka Minister of Public Administration & Home Affairs, Sri Lanka Minister of Enterprise Development & Investment Promotion, Sri Lanka Minister of Public Administration & Home Affairs & Deputy Minister of Finance & Planning, Sri Lanka Deputy Minister of Finance & Planning & Senior Presidential Adviser on Economic & Monetary Affairs, Sri Lanka Senior Minister of International Monetary Cooperation, Sri Lanka Senior Minister of International Monetary Cooperation & Deputy Minister of Finance & Planning, Sri Lanka Minister of Higher Education Minister for Special Assignments Minister of Science, Technology. Research, Skills Development & Vocational Training and Kandyan Hritage Minister of Foreign Affairs
Career
i) 1961 – 1962 - Lecturer in Sociology, University of Ceylon
ii) 1962 - 1968 - Ceylon Civil Service
iii) 1968 – 1972 - Director of Information, Government of Sri Lanka
iv) 1970 – 1972 - Chairman, Sri Lanka Broadcasting Corporation, Sri Lanka
v) 1972 – 1977 - Senior Assistant Secretary, Ministry of Public Administration, Sri Lanka
vi) 1977 – 1982 - Secretary, Ministry of State, Sri Lanka
vii) 1982- 1986 - Director, International Programmer for the Development of
Communication, UNESCO, Paris
viii) 1986 – 1990 - Associate Secretary General, Worldview International Foundation
Professional
1) 1978 - 1981 - Chairman, Sri Lanka Mass Communication Association
2) 1981 - 1982 - Executive Committee Member and Secretary General, Asian Mass Communication, Information and Research Centre, Singapore
3) 1980 - UNDP Consultant for Asia on the Development Information Network Project
4) 1980 - 1981 - Sri Lanka Delegate to UNESCO Conferences on Media, Paris
Publications (Books) - English
1) Culture, Society and Environment (in Sinhala - M D Gunasena, Colombo - 1978)
2) Notes on Sinhala Culture (M D Gunasena, Colombo - 1980)
3) Dynamics of Rural Development and Shramadana in a Dry Zone village (Colombo,1981)
4) "Mass Communication Research in Asia" - (Editor) AMIC, Singapore 1987
5) Rethinking Development Communication - (Editor) AMIC, Singapore 1987
6) Sarath Amunugama – A Full Life - 2009 July
7) Home & The World - 2010 August
8) The Lion's Roar – 2016
9) Dreams of Change Land, Labour and Conflict in Sri Lanka - 2018
Publications (Articles)
1964: "Rural Credit in Ceylon", "Some Sociological Observations" Ceylon Journal of Historical and Social studies: Vol. 7 No.2
1965 "Chandrikawewa": A Recent Attempt at Colonization in a Peasant Framework" Ceylon Journal of Historical and Social Studies. Vol. 8 NO.1 1969: "The Cinema in Ceylon" in Education in Ceylon : A Centenary Volume (Government Press, Colombo)
1974: "Sociological Factors in Family Planning Publicity Programmes" Report of a Seminar on Population Problems. UNESCO Regional office for Education in Asia, Bangkok
1975 : "Information Imbalance: The Film in Sri Lanka" Paper presented at AMIC Conference on "Information Imbalance in Asia" in Kandy, Sri Lanka
1976: "Thinking the Unthinkable: Some Observations on Planning for Development" Administrator Vol. 3 No.1.
1977: "A Sociological Analysis of present recruitment to the Sri Lanka Administrative Service" Economic Review Vol. 3 No. 2:
Social Science Research on Family Planning in Sri Lanka: Communications Strategy Project, Colombo "Government Information: New Dimensions and Challenges" Media Asia, Singapore Vol. 4 No.3
1978: "John de Silva and the Sinhala Nationalist Theatre" The Ceylon Historical Journal Vol. 25 No.1 - 4
1979: "Approaches to Communication Planning" Media Asia: Singapore Vol. 6 NO.4
"Ideology and Class Interest in one of Piyadasa Sirisena's Novels" : The new Image of the Sinhala - Buddhist Modern Sri Lanka. ed. Micheal Roberts (Marga Institute, Colombo)
1980 : "Broadcasting in Asia and Pacific - some major issues" Paper given at ABU Conference, Colombo 1980
"The Communication of poverty and the poverty of Communication" Paper given at World Communications Conference: Decisions for the eighties, Pennsylvania, USA also Published in World Communications (University of Chicago) "Communication in China: A report after a study tour" Paper given at a seminar of the Sri Lanka Mass Communications Association, Colombo, 1980
1981 : "Institutional and Organizational problems in Communications Policy Making and Implementation in the field of Rural Development" Paper given at AMIC – EWCI Seminar on Communications Policy for Rural Development, Thailand
"News Exchanges among Asian Countries", working paper for AMIC - IPS Seminar on Asian News agencies Colombo 1981 published in Viertial Jahres Berichte (special issue on New World Information Order) Bonn 1981 "Introduction of Public Television to Sri Lanka" in Viertal Jahres Berichte (special issue on New World Information Order) Bonn 1981
1982. "Text and Context in Communications Research in Asia" in Mass Communication Research in Asia (AMIC, Singapore, 1982 )
"Broadcasting in Asia: A Sleeping Giant" in Media Asia 1982
"Media Education and Training in India: Reality or Ritual" Review. Article in Media Asia 1982
1984: "Remarques sur la violence dans I'ideologie bouddique et la pratique sociale a Sri Lanka (Ceylon)" in Etudes Rurales (Paris, July - Dec 1984)
1985: "Anagarika Dharmapala (1864 - 1933) and the transformation of Sinhala Buddhist organization in a Colonial setting" in Social Science Information Vol. 24 No.4
1986: "SAARC and Sri Lanka". A paper submitted at a seminar on 'Prospects for SAARC' organized by St. Anthony's College, Oxford.
1988: "Jayatissaha Rosalin : A Sinhala novel and the modernization of Sinhala Buddhist ideology in Colonial Sri Lanka" Paper presented at Seminar on 'New Media and Religions' organized by the Social Science Research Council, New York held in Carmel CA 22 - 25 April 1989
1999: (1977 to 2007)
Culture Society and Environment-
A collection of essays based on a Socialogical approach to identity Sri Lankan Culture, Society and Environment by Sarath Amunugama
Sanskruthiya, Samajaya Ha Parisaraya - 1st Edition - 1977 Sanskruthiya, Samajaya Ha Parisaraya - 2nd Edition - 1999 Sanskruthiya, Samajaya Ha Parisaraya - 3rd Edition - 2005 Sanskruthiya, Samajaya Ha Parisaraya - 4th Edition - 2007
2002 (2002 to 2005)
Anthima Satana - 1st Edition - June 2002
Anthima Satana - 2nd Editon - December 2002
Anthima Satana - 3rd Edition - March 2005
2003 (2003 to 2005)
Maname Mathakwee – 1st Edition - September 2003
Maname Mathakwee – 2nd Edition - October 2003
Maname Mathakwee - 3rd Edition - March 2005