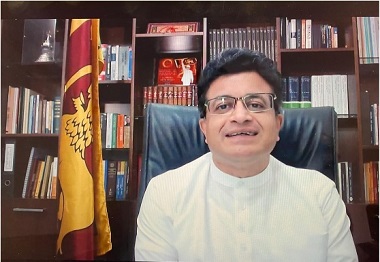 The Minister of Energy of Sri Lanka, Udaya Gammanpila, virtually participated at the 7th Berlin Energy Transition Dialogue on 17 March 2021 on an invitation extended by Heiko Maas, Federal Foreign Minister, and Peter Altmaier, Federal Minister for Economic Affairs and Energy of Germany, and facilitated by the Embassy of Sri Lanka in Germany.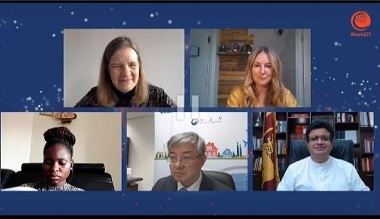 Minister Gammanpila participated as a panellist at the Session 'Flattening the climate curve-lessons from the pandemic', which discussed the application of the lessons learnt by the world from Covid-19 pandemic in addressing the global emergency-'climate change'. The Minister of Energy briefed on Sri Lanka's efforts in transforming into de-carbonized energy and the initiatives introduced in the local context to encourage the use of renewable energy sources even at a time the economy has been hard hit by the pandemic.
Ms. Sophie Howe, Future Generations Commissioner for Wales, Ms. Hilda Flavia Nakabuye, Climate Activist, Fridays for Future, Uganda, Ms. Nino Tandilashvili, Deputy Minister of Environmental Protection and Agriculture, Georgia, and Mr. Yeon-chul Yoo, Ambassador and Deputy Minister for Climate Change, Ministry of
Foreign Affairs, South Korea also participated the panel discussion.
The Berlin Energy transition Dialogue is a leading international forum for key stakeholders from the energy sector to share their experiences and ideas on a safe, affordable and environmentally responsible transition to clean energy. The event was virtually held on 16 and 17 March 2021 due to the pandemic, with the participation of high-level delegates from more than 50 countries.
Embassy of Sri Lanka, Berlin, Germany, 18 March 2021