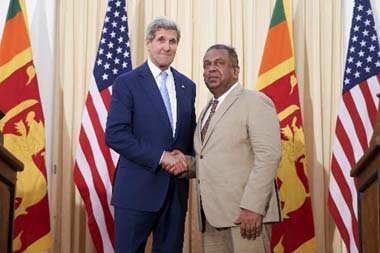 U.S. Secretary of State John Kerry said on Saturday the United States wants to renew ties with Sri Lanka and urged its new government to work with the United Nations to ensure an investigation into war crimes met international standards.
Kerry arrived in the South Asian island nation earlier on Saturday, the first time in a decade that a U.S. secretary of state has visited Sri Lanka. He announced the start of an annual bilateral dialogue and said the United States would immediately send experts to advise the new government on economic growth, trade and investment.
Sri Lanka, now a middle-income country, can no longer afford to rely solely on foreign aid.  It is in our government's best interest to attract foreign direct investment as part of a broader strategy to kick-start the economy, Foreign Minister Mangala Samaraweera said yesterday welcoming U.S. Secretary of State John Kerry to the External Affairs Ministry in Colombo.
"Sri Lanka has been considered a paradise for tourists for many years, but our government is now also keen to make Sri Lanka an investor's paradise," he said. "In order to do so, we are in the process of cultivating a rule based investment climate. I hope that American investors will take advantage of the many new economic opportunities now opening up in Sri Lanka."
Find more information under http://www.island.lk/index.php?page_cat=article-details&page=article-details&code_title=124063
http://www.reuters.com/article/2015/05/02/us-srilanka-usa-kerry-idUSKBN0NN02V20150502