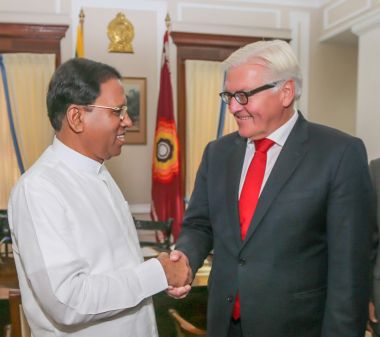 German Foreign Minister Mr. Frank Walter Steinmeier says Germany would lead the European Union to revive the GSP+ Relief to Sri Lanka. The Foreign Minister who is on an official visit in Sri Lanka stated that he would take action on that regard, in coordination with the Foreign Ministry of Sri Lanka.
Mr. Steinmeier made these remarks when he called on President Maithripala Sirisena today (Sep. 22) at the Presidential Secretariat.
President Sirisena, commending the cooperation of Germany extended to Sri Lanka for a long time, stated that to maintaining a good association with every country in world is the foreign policy of the new government of Sri Lanka. He also thanked for the vocational training centre, being built in Kilinochchi with financial assistance of Germany. The President stating that Sri Lanka is now a country which uses high standards technology in health sector requested the assistance for the development of the technical skills for health activities.
The President said ensuring of the democracy and reconciliation is the course of his government. He also stated that the government is committed to ensure the freedom of judiciary.
The President, who invited German investors to Sri Lanka, promised to provide required facilities to them. The German Foreign Minister expressed the satisfaction of the government of Germany on the program carried out by the Sri Lankan government to ensure democracy and achieve reconciliation.
Mr. Steinmeier conveyed the invitation of German Chancellor Angela Merkel for President Sirisena to visit Germany. The President accepted the invitation.
Deputy Foreign Minister Mr. Harsha de Silva, Secretary to the Ministry Mr. Sivageeshwara and German Ambassador in Sri Lanka Dr. Jürgen Morhard also participated in this occasion.