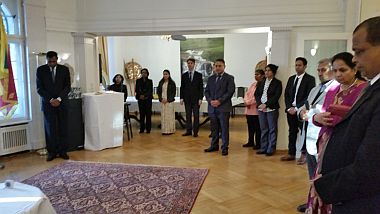 The Embassy of Sri Lanka in Berlin commemorated the second anniversary of the inauguration in office of President Maithripala Sirisena, on 6th January 2017, with the participation of religious dignitaries and also with the representatives of Sri Lanka Associations based in Berlin.
In a multi religious ceremony chief incumbents of the Berlin Sambodhi International Buddhist Centre - Ven. Rabukwelle Devananda Thero - together with other religious dignitaries representing the faith of the Hindu - Rev. Krukkal Siniwasan - , and Christian - Rev. Carl-Heinz Merz - invoked blessings on President Maithripala Sirisena, the Government and the people of Sri Lanka for success, prosperity and harmony.

Speaking on the occasion, Ambassador Karunatilaka Amunugama, elaborated on the achievements of the present Government towards national reconciliation, the re-establishment of democracy, the rule of law and good governance in the country. He added that the Government was working towards raising the living standards for all Sri Lankans. In addition, the Ambassador highlighted the positive image that was created by the Government among the international community.

On behalf of the Government of Sri Lanka, Ambassador Amunugama, urged Sri Lankans in Germany to support and strengthen the new Government in its historic journey towards fulfilling the aspirations of the people of Sri Lanka.

The religious blessings were followed by offering of alms to the religious dignitaries. Refreshments were served for the present members of the Sri Lankan associations and staff.
9th January 2017
Embassy of Sri Lanka, Berlin