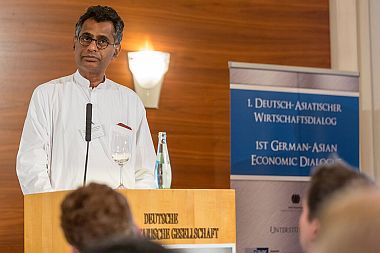 At the invitation of the German Bundestag (Parliament), Minister for Megapolis and Western Development Patali Champika Ranawaka, visited Germany and addressed the First (1st) German - Asian Economic Dialogue on 27th April 2016 at Deutsche Parlamenarische Gesellschaft of the German Bundestag.
The 1st German - Asian Economic Dialogue provided a platform for German - Asian Business through interactions with decision makers from German Parliament and Federal Ministries. The main focus was Asia's booming economies and Germany as Europe's leading nation in technology and to build bridges and promote exchanges. More than three hundred (300) business and political leaders participated at the event.
After the keynote speech by the Parliamentary State Secretary for Economic Cooperation and Development, Hans – Joachim Fuchtel on "Future Trends in Asia", Minister for Megapolis and Western Development Patali Champika Ranawaka delivered the main speech on "Urbanization, Mobility and Energy Transition".
Outlining the strategies and the vision of the Megapolis and Western Development Ministry, Minister Ranawaka stated that the Sri Lankan Government has taken initiatives to address Congestion Pressures (Traffic, Waste, Floods, Pollution etc.) through structural economic and spatial transformations. He also elaborated how to leverage the current global techno economic environment for national development in Sri Lanka through new industrial revolution and emergence of smart cites. While presenting the future projects in the Western Province, Minister Ranawaka invited the German investors to explore opportunities created through new transformations.
The President of the DIHK, Dr. Schweitzer addressed on "Free Trade in Asia Pacific", and CEO of Jenoptik, Dr. Michael Mertin spoke on "Innovation, Industry Research and Development".
In side-line of the Dialogue, Minister Ranawaka met the Parliamentary State Secretary Norbert Barthle of the Federal Ministry of Transport and Digital Infrastructure (BMVI) and both discussed and agreed in strengthening bilateral relations for mutual benefit.
During his meeting with Prof. Angela Ittel, the Vice President for International Relations and Ms. Evelina Skurski, Consultant International Cooperation of the Technical University in Berlin, the assurance was given to Minster Ranawaka to develop capacity in the area of urban development.
The minister also visited the Federal Office for Building and Regional Planning (BBR) of the Federal Institute for Research on Building, Urban Affairs and Spatial Development (BBSR) in Berlin and had bilateral discussion on future cooperation with Professor Harald Herrmann, Director and Professor of BBSR and Dr. Markus Eltges, Head of Department "Spatial Planning and Urban Development" and Dr. Peter Jakubowski, Head of Unit "Digital Cities, Risk Prevention and Transportation (expert for smart cities)".
The event provided an opportunity for Sri Lanka Ayurveda "Sidhalepa" to showcase their products to the high level audience at the "Asia Course". The First (1st) German - Asian Economic Dialogue included with a working breakfast at the "Jakob Kaiser House" of Bundestag with the participation of Parliamentarians and interaction with the Federal Minister for Economic Development (BMZ) Gherd Müller.
On behalf of the German Bundestag, Mark Hauptmann of the Christian Democratic Union (CDU) coordinated this First (1st) German – Asian Economic Dialogue.

Embassy of Sri Lanka
Berlin
06th May 2016